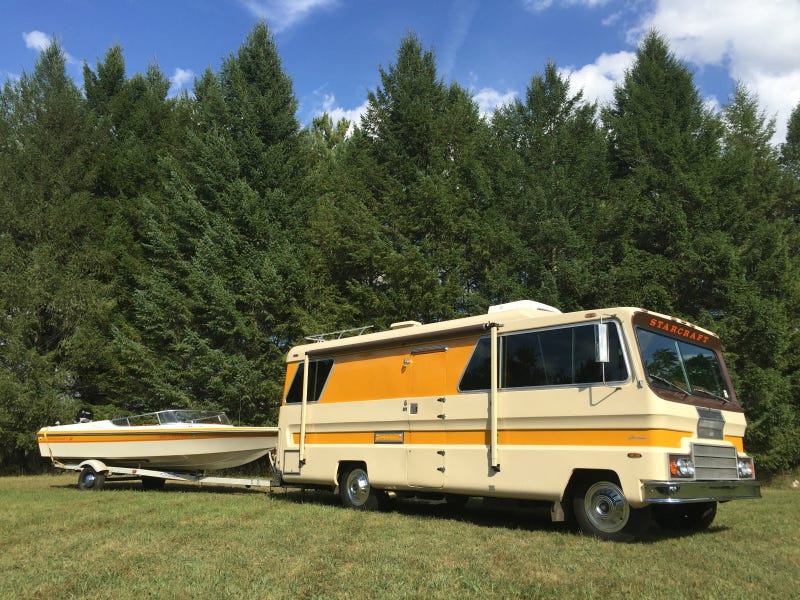 Recently, I've found myself craving an old RV. I know that sounds weird, but I have all of these ridiculous fantasies fueled by roadtrip movies about driving out west and living off of the land, paying for gas by doing odd jobs as I hop from town to town; sort of like a modern "Of Mice And Men", only with less death. Anyway, there are four kinds of RVs: trailer campers, which are the smallest and cheapest, Class C campers, which are like truck campers and slide ins, Class B, which are van campers, and Class A, which are the huge motorhomes. And I was browsing those on ebay when I found this thing.
The Starcraft StarCrusier. That's a fuck yeah name if there ever was one. StarCruiser sounds like the name of the ship that passes the Millennium Falcon on the right and flips Chewbacca the bird as it zooms off into the galaxy. StarCruiser. Say it slowly with me: StarCruiser. And look at the giant Starcraft letters. RAM thinks they're all original with their giant tailgate bling, but this behemoth did it before them front AND rear, and in Earth tones to boot.
Awwwww yisss. Shag carpeting and plaid houndstooth. That's the shit. Those snobs at Pebble Beach think they're all that when they throw down million for some old race car that feels like you're sitting on a pile of age - hardened cat shit, but for way less, you could be rubbing your bare feet into disgusting 40 year old shag while your ass is massaged in the height of 1976 fashion n' passion.
Look! Even the goddamn refrigerator gets leather! And it has a refrigerator! Bentley think they're all that with a tiny - ass rear seat freezer for you champagne, but this thing has a refrigerator AND freezer larger than most Ukrainian soccer stadiums AND it has a liquor SHELF the height of Shaq! All for a price less than a Volkswagen Touareg!
But wait! There's more! Because of course there's more, it's a goddame thirty foot long ode to America! It's basically dick with more Earth tones and liquor. It has a fucking shower! That's right, the next time you're driving and spill that two - liter Dr. Pibb your chugging all over your junk, you won't have to stand ass - naked on the side of the highway in the middle of bumfuck - nowhere North Carolina as your pants dry out on the rear window of your Touareg! You just pull over and get in the shower! And it's all indoors, so you won't get tased by some cop who looks like an extra from "Smokey and Bandit" because he saw sawing rubbing the sausage on the side of the road!
But because Starcraft enterprises wasn't badass enough, guess what else they make? SPEEDBOATS! Nothing says Fuck Yeah more than zipping across the water at ridiculous and unsafe speeds BECAUSE YOU CAN. And guess what? It's included with the Starcraft RV! That's right, a land yacht and a water yacht for less than the price of Hyundai Azera! Just think, you could ride down the highway, KING OF THE MOTHERFUCKIN' ROAD in your liquoer filled, Earth tone covered, shag mobile, then get on the lake and zip around at highly questionable speeds! AND the boat is right hand drive, so you can have JDM street cred with the youths.
LOOK AT THIS THING. It takes up two spaces at the campsites, because all of the bitches in their plebeian campers know not to fuck with Starcraft, destroyer or worlds. How do you think it feels to be that bitch in the Shasta? YEAH, ART DECO THIS, ASSWIPE.
Since you're convinced, here's the link. We all await the lucky Oppo who buys this to quickly rise to mod, then FP author, then Gawker author, then Univision employee, then Univision CEO, then Senator, then Senate majority leader, then President within days because of their massive balls.