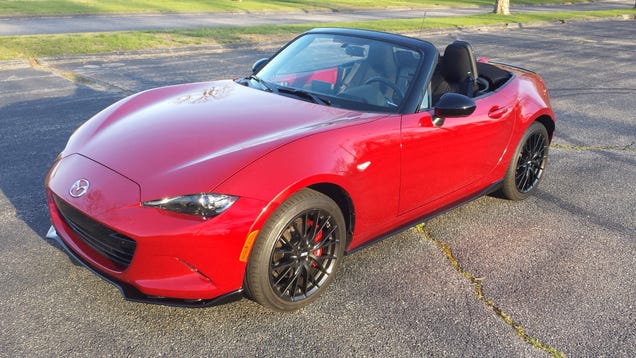 Mazda's MX-5 Miata has been in production since 1989, and is now in its fourth generation for the 2016 model year. The car draws its heritage draws from classic British roadsters from the 1950's and 60's such as the MG and Triumph. The combination of a flickable chassis and an engine that likes to rev has resulted in the Miata being the best-selling two seat convertible sports car in history, with over 1,000,000 cars sold worldwide as of April 2016.

The Miata is powered by a 2.0 liter 4 cylinder rated at 155hp and 148lb-ft torque backed up by a six-speed manual transmission and limited-slip differential. A six-speed autobox is optional. This engine in the 2,332lb Miata provides a 0-60 acceleration time in the high 5-second range, and an EPA rating of 27mpg city and 34 highway (30 combined). Horsepower is down a tad from the NC's 167hp but the car's curb weight has also received some attention and is down from around 2,480lb. The ND is about one second faster 0-60 than the previous NC.

Anybody familiar with the MX-5 will immediately recognize this cockpit. Drivers up to six feet will find the cabin cozy but not overly tight, although taller drivers may find the seat adjustment runs out of rearward travel. The gauges are simple and placed well so that the steering wheel spokes don't block them. Gone for 2016 is the retractable hard top; a victim of Mazda's quest for weight savings. The soft top is easy to raise and lower; operation is a one-handed affair.

On the road, the Miata doesn't disappoint; the steering is truly telepathic and the 2.0 liter engine feels like it will rev into the stratosphere. This is fortunate as it must be wound up to move the car with any kind of gusto. There is no discernible body roll, and the suspension provides a firm ride, but not jarring over unimproved pavement. The six-speed manual transmission has a precise feel and shifts are fluid and positive. Mazda has gone back to its original formula for its elemental sports car by reducing weight by nearly 200lbs over the NC. The latest iteration is a car that's highly entertaining and comfortable on the street while sure to be a hoot on the track.