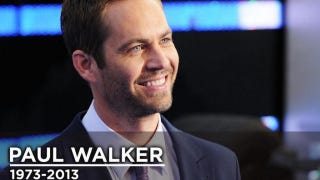 AKA Brian Earl Spilner...."sounds like a serial killer". I figured I would start with some levity to begin a post bereft of humor. I know there have been a lot of these posted already. This is more for me than Oppo anyway, I never met the guy, certainly not in the position to write a eulogy.
But I was away for the weekend and didn't get a chance to write anything meaningful so I figure I can document my thoughts and feelings, part of the beauty of Oppo. If anyone reads it, great. If you disagree or just want to make a joke in poor taste, don't bother.
In 2001 I had a 1999 Honda Civic, unmodified but a 5-speed with upgraded factory wheels and spoiler. I was kind of into cars. Sort of. In June 0f that year I went to see The Fast and the Furious. The commercials looked good, cars, action, crime, drama, chicks, cool. And it had that guy from Varsity Blues, he seems pretty likeable. He was. And I loved the movie. I think I saw it twice in the theaters. Now I didn't run out and buy stickers and a bigger wing for my car, but it made me appreciate driving, appreciate my car, and most importantly appreciate automotive culture. Hey, there are people out there who like to stand around and stare into engine bays and talk about cars. Cool.
Shortly after that I was back at the local Honda dealer negotiating for a manual transmission, electron blue 2001 Honda Prelude. It wasn't the best deal I've ever gotten, and was probably a bit of an impulse buy, but man what a car. That was it, I disappeared into a world of automotive forums (Car & Driver and a few others that I ended up being an Admin on) and that was that. It stuck. I found autocross racing and flipped my way through several Mustangs, Miatas, a 951, a 9-2X, 350Z, G35S, and now as of last Wednesday...another Mustang. I am a car guy now, tried and true, and whether or not I would still have become one if the Fast and the Furious seried didn't exist or not is irrelevant.
The series, as Juan put it, made cars cool again. Sure the cars weren't always exactly what we wanted; I watched the first movie last night and there are still still quite a few face palm moments looking at how the cars were styled. But in their basic form they were all pretty awesome once you strip off the stickers and wing. Aesthetics aside, I would drive anything Brian O'Conner drove, the DSM, the MK4 Supra, Skylines, etc. and like it.
The comparison to Star Wars was spot on, it's a little campy but certainly keeps your interest and let's face it, how many car movies have there been in the last decade? Redline? Oof, terrible. So it was all we had and it was pretty good. The series continued and got better in my opinion (although truth be told the second one wasn't my favorite, but I did like Tokyo Drift oddly enough). They moved to some great on-scene locations for "4-6" and I know I've had more than one daydream about either being an undercover cop paid to drive fast or someone on run in a fast car. They were escapism and O'Conner was someone you wanted to be. You rooted for the "good guys" even if they were the bad guys.
In real life, Walker seems to be legitimately likeable as many have pointed out. I heard a re-run interview from 2009 this morning on the radio and he talked about how he had to take his 10 year old daughter to see Hannah Montana even though his movie was out (would have been "Fast and Furious" that year) and we have all seen how much of a car guy he was. My wife's friend met him in a bar and even after her friend, after a few too many drinks, was sort of a dick to him, Walker played it cool and they all talked for 20 minutes or so. Rare in Hollywood, he didn't punch anyone or end in rehab.
So I found myself sad, and no offense to other Hollywood actors and actresses, that usually doesn't happen when someone famous passes. My wife is expecting March and the little guy was kicking up a storm last night while we were watching the first F&F movie. I got a little misty eyed thinking of his 15 year old daughter losing her father this early in life. He had 2 brothers and 2 sisters as well, can't imagine what they are going through.
So the automotive world lost a good ally, and ambassador of sorts, this weekend. Perhaps it took his passing to realize how much he was appreciated, sad if that's the case. I don't know that I have researched James Dean's life enough to compare the two, but there seem to be some parallels on the surface at least. Great looking actor, passion for cars, race driver, maybe not an Oscar winner but made entertaining movies, and tragically died at speed. Perhaps this will engender Walker's career and legacy with the same sort of status. Regardless he will be missed.
As for what to do with the 7th installment of the Fast and Furious franchise, proceed with it. Perhaps give Brian O'Conner a proper send-off in the movie, allow some closure to the series and either have him "retire" or go out heroically saving his wife and child. I know that will be controversial, and I'm sure which ever choice the filmakers choose will be criticized, but that's my preference. I know I'll go see it.
RIP O'Conner.