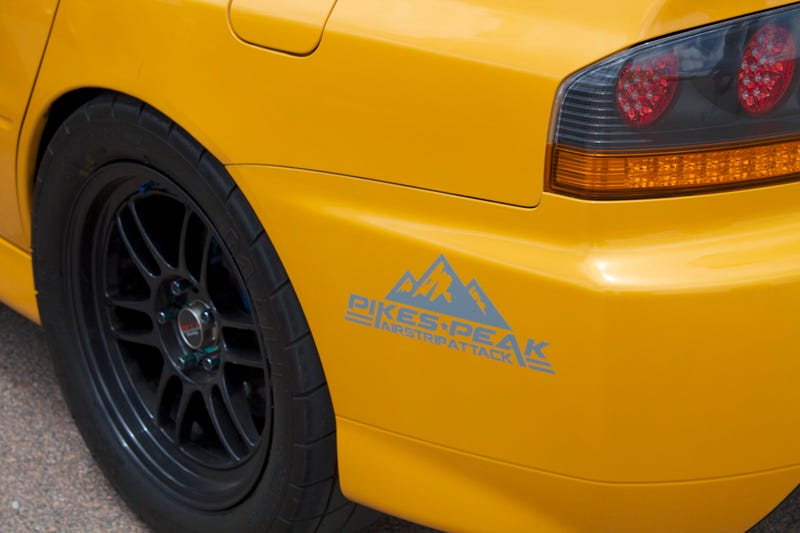 The Pikes International Hill Climb has created a cottage industry in Colorado Springs, Colorado at the base of "America's Peak." The week leading up to the race has become "Speed Week" for the city and this year a new event has come to town: The Pikes Peak Airstrip Attack. The Pikes Peak Airstrip Attack is a half-mile side-by-side roll race and trap speed competition. Drivers are competing for the title of the Mile High Victor.
The weather was pretty cooperative, for driving that is. The temperature was around 82℉ and it was cloudy. It did start to sprinkle, as it wants to do on the Front Range of the Rocky Mountains in the afternoon, but it didn't last and the cars kept screaming down the half-mile of runway at Colorado Springs' airport (COS).
The variety of cars was pretty good including the orange Aventador from Kansas, a ton of BMW M3s, an equal number of Corvettes, a veritable cornucopia of GT-Rs, and even a Bentley Continental. In the short time I was there I saw speeds up to 175 mph in the short 1/2 mile of runway.
The Ford GT was apparently on steroids. The owner could barely control its animalistic nature and appetite for devouring tires.
Here's a blurry video, but there's no noise missing!
This ain't Doug DeMuro's CTS-V Wagon. This one was amazing and ran like a Usain Bolt on Puppy Uppers. The owner hit about 145 mph, but was having some issues. He reckons the car is good for 160 mph in a 1/2 mile.
This Aventador is out of Hays, Kansas. The owner and his wife were charming and friendly. One young man had the balls to ask for a ride and he got it! I'm pretty sure he'd never gone 150 mph in his life. The car appeared mostly stock. The owner told me he mostly drives it on the track, so don't expect to see it tooling around downtown Hays.
This Superleggera was driven by a lovely young lady. Sorry no pics of her.
I'm pretty sure the M3 on the right is my neighbor's car. He's done some work including adding a Supercharger to the already potent M3 4.0 Liter V-8.
I'm not how well this Chevy Cruze SS did during its runs. Chevy Cruze SS. Hmmm.
The AMG 4-door Coupe was amazing I must say. It could hang with the big boys and it appeared pretty stock.
The Bentley was pretty amazing. The owner, Craig, is a retired, but pretty young, financier and husband of an actress/entertainer. He has an impressive stable including four Porsche 911s, a GL-63 (which he almost brought to see where its 500+ HP would take him), and of course his 2007 Bentley Continental. He hit around 140 MPH, but he has plans to bump up his daily driver's power output to around 800 HP.
And here's some GT-R goodness for you to see and hear:
All photos and video © 2014 Dan Mosqueda aka Mosqvich