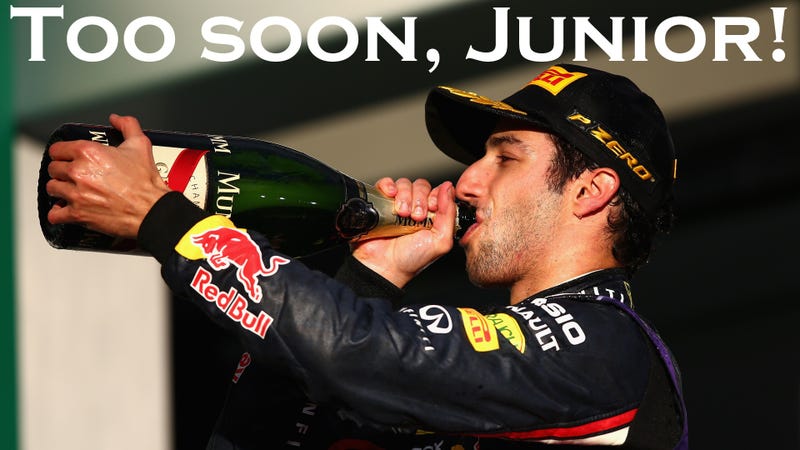 If you have been following Motorsport Media, you should recall what happened during the Australian GP weekend. After disastrous testing where the new RB10 was not only unreliable but also off pace, Red Bull managed to strike back. Ricciardo qualified second, only behind Hamilton and his dominant Mercedes, and he crossed the checkered flag in the same position, this time behind Rosberg and his dominant Mercedes. Hamilton and Vettel both had to park their cars after engine problems.
It could have been a huge success for the Austrian team. Not only did they finish with one car, but the new Red Bull driver Ricciardo drove to the podium at his home GP. The fans went nuts, and people like me hoped that he would not become a second Mark Webber in terms of being stuck behind Vettel and having bad mechanical luck.
Five hours later Red Bull had zero points. The RB10 was found to have used too much fuel for the whole race and therefore was disqualified. Arguing started surrounding the device that measures fuel flow, the Fuel Flow Meter, and on April 14th, the FIA and Red Bull will go to court in Paris.
We need to understand what happened in Melbourne, so here is a full explanation and interpretation that can also help you look like a smart ass should someone ever start a discussion about this topic.
I. The Fuel Flow Meter and how it's used
The main point of the whole arguing is a Sensor developed by Gill Sensors in accordance with the FIA. Measuring the actual fuel flow from the gas tank has always been unreliable and required big machinery. When the rule makers decided to give racing a green touch, they needed to limit fuel and to limit it constantly. That's why the device was developed, and it proved to be challenging make it record data without too much variance. As of now, it lays under 1% according to the manufacturer.
Not only will the sensor will be used in F1, the LMP1 works teams of Toyota, Audi and Porsche will have 3 Fuel Flow Meters on board when they race in WEC. So you can imagine that a properly functioning sensor is of great importance.
Back to F1: Every team buys their sensors from Gill Sensors, has them calibrated at a company called Calibra and then verified by the FIA. More fuel equals more power, so understandably the rule makers did everything to stop teams from modifying the devices in their favor. After all these steps, the teams are free to install the sensors.
Because of the vagueness of measurements the teams are given a correction factor that equals it out. It usually is between 1.5 and -1.5%. For example, say the McLaren data records a fuel consumption for 100 liters but the sensor says 101, then the FIA will recalculate the limit of fuel usage by one percent after examining the data and assuring it all is correct. This all happens in advance and before Qualifying.
II. The occurrences of Melbourne
So far, so good. With the theory in place, let's take a look at what happened in Melbourne, the first race with the brand new technology.
During Free practice, all of the teams reported inaccurate measurements, but they all were laying in a tolerance zone of 3 grams more fuel per lap. All of the teams? No, Mercedes was slightly above that with 4 grams and Red Bull with even more.
The silver arrows reacted and lowered the consumption a bit and were all set for a dominant win. Toto Wolf, MercedesGP Boss, said after the race that it cost them a few tenths, but they did go the save way. Also Rosberg didn't show all the speed that lays in the W05 which certainly helped with not maxing out the range.
As for the reigning world champions: They reported both RB10s to have broken Fuel Flow Meters and changed them. So far, nothing special or outrageous, expect for the amount of Fuel Flow Meters the team brought along: 4. Four. For two cars with terribly unreliable engines. Other teams had loaded their suitcases with as many as 12 sensors to be on the save side. At this point I start to wonder why a team that spends close to 300 Million Euros a year can't buy enough crucial parts/spares when teams that barely make it to the grid can.