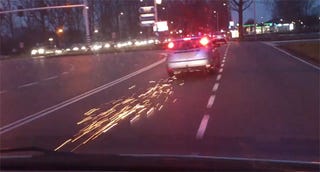 On this side of the pond, car chases usually don't involve guns and/or excessive use of pursuit cars ... so most of them are boring to watch.
This piece was shared by Rotterdam Police via Twitter on 8 March and details their efforts to stop a man trying to run from Police. The man in the Focus continued his drive with at least one wrecked front tire (in a FWD Focus, mind you), then tried to escape by driving through a highway exit in the wrong directing; with quite a bit of traffic and a slick pit maneuver by the Police VW Transporter (!), he was eventually stopped ... again, he refused to give up and tried to take off once more before he was taken down.
The man already had his license taken away prior to the incident, he was also under the influence of alcohol at the time.
Sauce: https://twitter.com/politieRdam_O/…