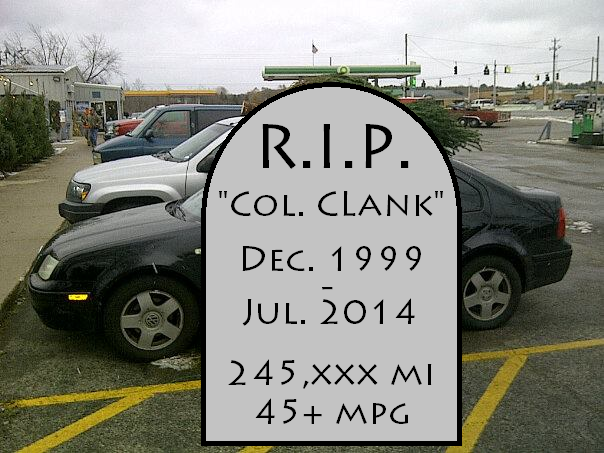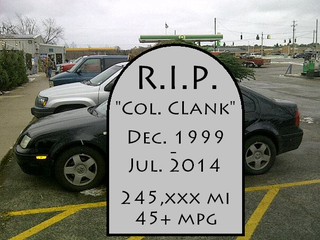 LA JETTA EST MORT.
2014 has turned out to be a year of changes here in Group B-raaaaaaaaaap!-land (formerly known as AbarthGuy). I left the auto industry to enter the medical devices industry. Looking back, it has been the right choice. I love cars, but working in the dealership side as an avid enthusiast was nothing short of disheartening. I had been recruited to open and manage a FIAT dealership; as an Italophile, it was a very exciting prospect. And the dealership group I worked for was incredible. But when you love cars to the obsessive extent that most Opponauts do, you become deflated when you realize just how little the public at large actually cares. I could quote specs and show key features all day long, in the end the sale came down to financing and cup-holder count. I wish I were joking. Frankly, I believe that if your heart rate didn't jump at the angry snarl of an Abarth (it's fantastic, like one of those miniature pinschers; it's cute, but you still keep your distance), you have no soul. So I left and now I am a distributor for orthopedic implants. I really enjoy the job, because I can use my natural salesmanship, and it engages my nerdy engineering impulses, but I'm not so fervently in love with it that I overlook challenges and shortfalls. I've come to learn that if you truly love something it should stay a hobby, not a career, for me anyway.
Now as much as I loved the FIAT line up, and especially the Abarth (PS - be sure to watch the LA Auto Show in November), there was another car which I loved equally as much. She was old, shaky, loud, slow, and needed a new thermostat (the cabin never really got warm in the winter, a huge problem when it snows for 5 months), but she was fun to drive and I loved her dearly. I am sad to say that 1 day before my 33rd birthday, my TDI finally passed on. Specifically, it ate it's own water pump and took a series of pulleys, a belt, a tensioner, and some miscellaneous bits with it. Mrs. Group B-raaaaaaaaaap! did not share my enthusiasm, however, and was slightly relieved to see her go. The cost to repair was well beyond the actual value/useful life of the vehicle. Happily, however, my former FIAT technician can wrench on anything with wheels, and he giddily scooped up the TDI for scrap-price and will likely have it back on the road by the middle of August as his summer car. So she'll be gone, but not forgotten.
The Search Begins
This meant it was time to buy a different car. And rather than view it as a headache, I saw it as a tremendous opportunity (as any Opponaut should). I immediately began my list of must haves:
3 Pedals

Wagon, or 5-door Hatch

Good Fuel Economy (Bonus Points for Diesel)

Be Fun to Drive

Bulletproof reputation for reliability

A working heater core

No previous modifications

Look semi-professional (I have to take Surgeons to lunch)

RWD or AWD (FWD only if TDI Sport Wagen)

Solid safety ratings (this was actually the only item on Mrs. Group B-raaaaaaaaap's list, as we have two little braaaaaaaaaaps and might have another someday)
Based on my geography and needs, I had crunched the list down to a few strong candidates, all of which weren't going to be cheap thanks to you other Opponauts buying all the good cars and driving prices up. Here was the short list:
VW Jetta SportWagen TDI (MK V+)

Volvo V70 (2nd/3rd Gen)

Audi A4 Avant (B6/B7)

Subaru Impreza Wagon (late 2nd Gen)

Saab 9-2X (Saabaru, but who was I kidding?)
Of that list, I had found 1 which actually fit my criteria and budget, a 2007 Subaru Impreza wagon in base with a fair amount of miles on the clock (~140k). I was pretty stoked, so I called the dealership which was 2 hours away (part of my former dealership group), and booked a test drive. It looked as if I had potetntially found my next replacement.
Wait... what?
I did not buy that Subaru. I did not even drive that Subaru. A dark horse came out of left field, and I was too enamored to say no. Now on the surface, it would appear as if I completely sold out to make Mrs. B-raaaaaaaaaap happy, and maybe I did a little. It isn't a wagon, the fuel economy isn't spectacular, and worst of all, it had only 2 pedals. That, by far, was the most egregious offense. I wanted to hate the car, I really did. I convinced myself before I even got into the driver's seat that I wouldn't like it, and besides, it had to be out of my price range anyway. Why compromise for a car I didn't want at a price I wouldn't pay?
I drove the car on a Saturday night. I had the new title by Monday afternoon. Maybe I have no conviction. But one thing is certain; I love driving this car. Even without a 3rd pedal, it's by far the most fun car I've ever owned.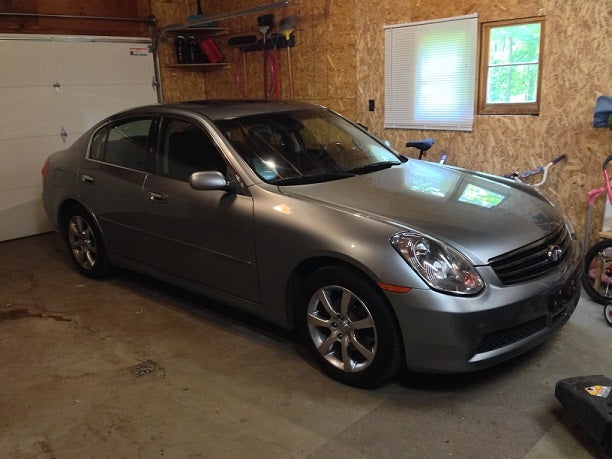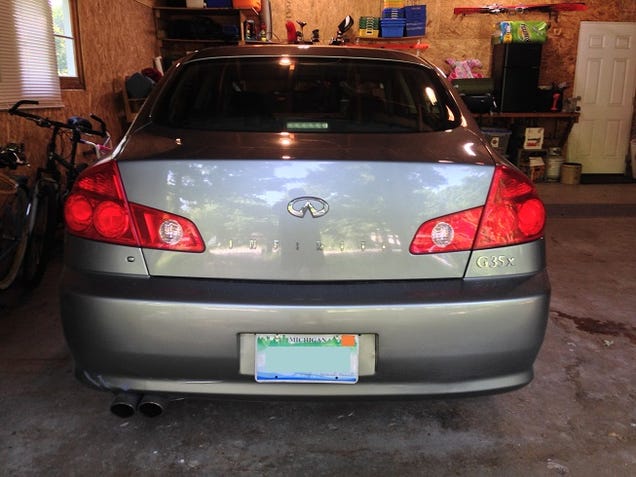 It's a 2005 Infiniti G35x. Only 77k on the clock, no modifications, never abused. I know this because we bought it from a family friend. His wife wanted him to buy something to take the kids to hockey, and he was happy to sell it to someone who would actually enjoy it. Despite not meeting all of my criteria, it hit most of the important ones. I was very familiar with this car's pedigree in Japan, and know a bit about the VQ35 mill under the hood. I was excited because I know it is nearly bulletproof with proper maintenance. But I was more excited because I never thought I could afford a car with the ATESSA-ETS system, and yet here it is, in my garage. It was just this weirdly serendipitous thing: we went to a BBQ and saw it parked out front with a fresh "For Sale" sign in the window. My wife's eyes lit up; I told her she was dreaming. We shot the breeze with our friend, took it for a quick drive, and the deal was done. Even writing this, I'm still not entirely sure how it all happened so quickly.
I'd also like to take the opportunity to plug the "Reader's Rides" master list!
ETA: This is not my handiwork. All credit belongs to JustWaitingForAMate!
If you haven't had a chance to enter your own ride, go ahead and click this link to do it. You can enter as much or as little info as you'd like, and there aren't any super personal questions (well, just one I guess) to make you feel uncomfortable.
Also, be sure to check out the full list here. And some sweet charts over here.
Next Steps
So now that I have a fresh ride, I am debating what to do with it? Since I do have to use it for work, full blown tuning and mods are out. Also, as I get older, I realize that a Super GT-esque widebody doesn't exactly suit me. So what next? A mild VIP-style treatment? I'll probably stay conservative: deep tint on the glass, maybe a mild wheel upgrade, and maybe, just maybe rebadge it with JDM Skyline 350GT insignias. Time will tell.