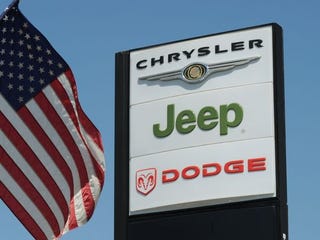 So I was browsing inventory on Jeep.com, inquired to a handful of different dealers on specific trucks, and this was one of the first responses I received:
"Hello Craig

When you come to the dealership we will require these things:

Buyer/Co-Buyer 1) Proof of income, a)W2 employees last 3 original paycheck stubs. b)1099 employees last 3 months bank statements or copy of last 2 months pay checks front and bck
Buyer/Co-Buyer 2) Proof of residence, a) Last utility bill, entergy bill, water bill or written lease with name address and phone number of landlord or relative if applicable. b) Date moved into residence
Buyer/Co-Buyer 3) Down payment, either cash or certified funds, (cashier's check, money order..) No hold checks unless approved by Telecheck -NO EXCEPTIONS.
Buyer/Co-Buyer 4) Proof of Checking/Savings most current statement with name of bank, address and phone number.
Buyer/Co-Buyer 5) 5 references, at least, name address phone number, and zips. (Cannot be at same address must be complete)
Buyer/Co-Buyer 6) A current valid Driver's license, valid state I.D. or valid United States issued passport.
Buyer/Co-Buyer 7) Full coverage insurance with declaration page showing finance company as lienholder.
Buyer/Co-Buyer 8) Valid e-mail address, land line cell phone and work number and any other applicable numbers
Buyer/Co-Buyer 9) Social Security Card
I am at the dealership every day but Sunday, from the hours of 9:00 to 7:00. Please feel free to contact me here if you have any questions.
Thanks for your time and I look forward to working with you."

So yeah... I suppose this particular dealer is in a particularly bad neighborhood, but DAMN BRUH. Thought this was worth a chuckle. ;)