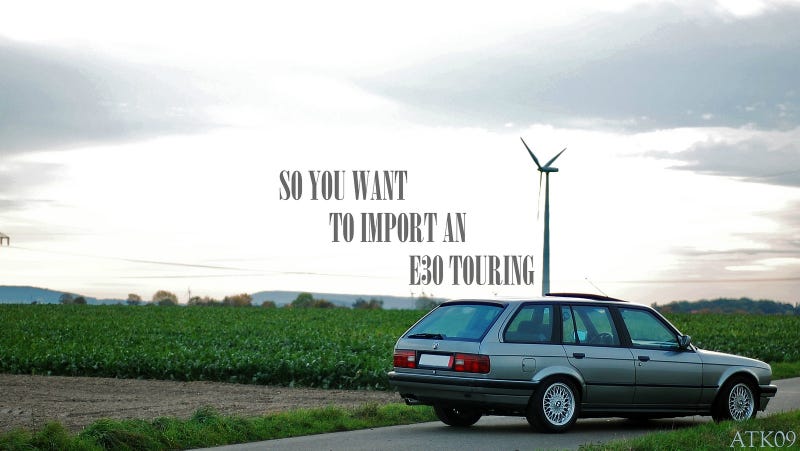 I am an American abroad, living in Germany, and have successfully purchased a 1988 BMW 320i Touring for future export back to the United States.
Good News, Everyone! The '88 Touring is officially registered and insured! If you're new to this series you should read Part I: The Rules for a little background. What comes next is a summary of the first week of ownership, from the issues that may arise from an Ausländer's point of view.
To keep you interested, recent photos of the car will be inserted throughout the article. The high-res originals can be found on Flickr.
Day 1
The car is still registered and insured via the Verkaufer (the seller), while I hold in my hands the contract agreement, vehicle title, and other assorted paperwork. After work I head down to the local ADAC, whom I have previously consulted on the steps required for this all to work smoothly (Part I details...). With the vehicle title and Verkaufer-Kaufer (Buyer) information, I pay a sum total of €480 to cover the vehicle for 3 months prior to Export. Unfortunately my timing was off, as I plan to ship the car in mid-december and you can only buy the insurance in monthly increments. I receive my insurance information and head home to organize all of my information for the "DMV" in the morning.
Day 2
Since I work during the day, and the Kfz-Zulassungsbehörde (DMV) closes mid-afternoon, I have no choice but to head in when they open at 8:00am. After a brief wait I am seated at a desk with a much older woman likely in her 60's. As I suspect, she does not speak english. I use my passable German to explain it is not my first language and hope she can bear with me. I tell her I need an Ausfuhrkennzeichen (Export Plates) and hand her the title, insurance information and TÜV (Inspection) documents. Within 20 minutes or so she has taken care of it and hands me a small slip of paper with my license plate information.
With this slip you must walk across the parking lot to the Plate maker. That's right, it's a totally separate business. Hand them the information and they stamp out a quick pair of plates in about 5 minutes. After mounting these to the car, you drive it up to the DMV building where another employee verifies the VIN matches the paperwork and applies the appropriate registration stickers to your plate. That's it! Now you are officially O.K. to drive your car.
Day 3
Dang, pulled over. That's right, nary a day since registering my car and I've had a run in with the Polizei. Lines and writing on the roads themselves are far more utilized in this country. What I thought was the correct lane to go straight, was in fact only for parking lot entry. Little did I know this, but there was also a Polizei Passat wagon directly behind. My eyes are only conditioned to the lights of Panther platforms and Chargers I'm afraid...
As it turns out, they had read my plate and noticed it was already expired. You see, the numbers in the red portion tell you when the export insurance is up, and the plate makers must have forgotten to change their "year" stamp. My insurance appeared to have expired about 8 months prior. At first I didn't understand what the trouble was, other than "Es geht nichts" which means "It doesn't go," or "this is not allowed," in this case. The second officer (yep, two) must have noticed my panic-stricken German was not native and stepped in with the English version. Great, now I have to go to work with wet trousers only to find it is not a big deal.
Anyway, the next day I returned to the "DMV" early and the problem was fixed in less time than it took me to stammer with the Police the day before. I drove the car everyday that first week (convenient public transit be damned) and enjoyed a beautiful Saturday afternoon to take the nice photos you see before you.
I know what you're thinking. "Where is this going?" you may ask or, "What the heck is the point?" Well I'm here to tell you I'm listening, and by listening, I mean I've realized that it all sounds like a bit of rambling and I want to fix it. At first, these posts were about the trials and tribulations one might face when they mean to attempt a similar endeavor. My personal experiences can only help you so you may avoid any uncomfortable entanglements with the Fuzz as I did.
I've enjoyed the benefits of living with a car in Deutschland, and I'll be finishing up this little trilogy with a trip to the venerable Nurburgring in Part III. Hopefully mein neues Auto can handle it.