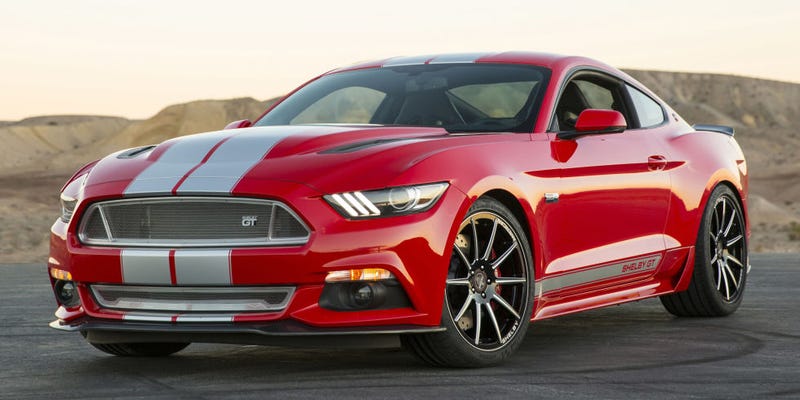 It's about time to get excited for the refreshed S550 Mustang. Besides the loss of the 3.7L V6 and introduction of the 2.7L EB V6, everything should be predicatable. Exterior treatments are easy to figure out because Ford does the same thing with every generation of Mustang. That means making the new low-tier cars resemble the old high-tier cars. Expect a big change in the light design, especially the amber lights becoming LED running lamps and indicators up front and some huge detail work happening around the tail. The Ecoboost models will look like the current GT with all new and more detailed headlamp and taillamp designs, the GT will look more like the GT350 with the new lighting, and the GT350 will have some revised materials but keep the current headlamp and taillamp shapes.
The engines are the most interesting changes. Since the 3.7L has been treated like an old wash rag since this new generation was introduced, I think we all can agree it's gone after this year. That said, I think we have all been expecting an engine to pop up between the 310 hp 2.3L and the 435 hp 5.0L. That's where the 2.7L EB V6 will be slotted in. My guess is that it will be running pretty close to 380 hp and 380 lb-ft of torque. The GT will end up getting most of the premium features and performance pack options as standard and have its starting price raised accordingly. I also wouldn't be surprised if the GT receives some Shelby GT350 parts and tuning as the "new" performance pack (afterall, that 5.2L is such a special engine that the regular GT model could have 99% of the Shelby's dynamics and still not be as sought after).
So all together, the 2018 Mustang Coupe lineup should be something around here:
2.3T: 310 hp and 320 lb-ft starting at $26,640. (Probably being very much revised since it has been a bit troublesome, likely due to how low the price point was but profits should be enough now to bring the base model fit and finish up to reliable levels).
2.7T: 385 hp and 390 lb-ft starting at $29,840.
5.0L: 450 hp and 405 lb-ft starting at $34,340.
5.0L: Same power bump as the GT starting at $42,170. (Perhaps with a "Mach 1" designation and pretty much being a Shelby GT350 with the Coyote engine instead. Mostly I'm saying MagneRide dampers).

5.2L: 526 hp and 429 lb-ft starting at $55,740 (with more bits off of the 350R added or optional).
And then you have the revised GT350R and the GT500 sitting above everything. Not sure what will happen with the GT350R since it's still running around $100k on the market. All I know is that every model year will get "quietly" quicker until Ford gives Motortrend the new GT350R "Final Edition - Carbon Assault High Aero Package 2.0" and it's a couple seconds faster around Mazda Raceway Leguna Seca than two model years ago.
Should be a good time! Can't wait to find out what engine is in the GT500.