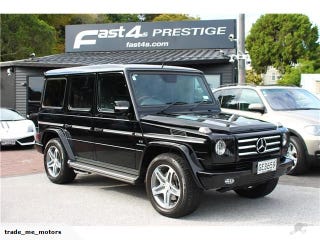 This is the best goddamn car on Trade Me right now. The elusive G-Class is hard to come by anywhere, let alone a G55 AMG sitting on the shores of New Zealand. I plan on buying a Defender in the not too distant future but one of these would be so fun. There's also a smaller, older model for sale too. I can't remember the last time I saw two of these for sale at the same time. Who doesn't want a 507 HP four wheel drive German box that will drag race one day and smash through a river the next? And it's black!
I hope that by some miracle I come into $200k in the next few days as I'd love to be that guy who turns up to 4WD expeditions in a 2012 G Class banging into trees and getting it covered in mud. Link to auction here.
Trade Me is the New Zealand version of eBay/Craigslist. I will aim to post up auctions for any interesting and rare cars that we get in this little corner of the world known as New Zealand.