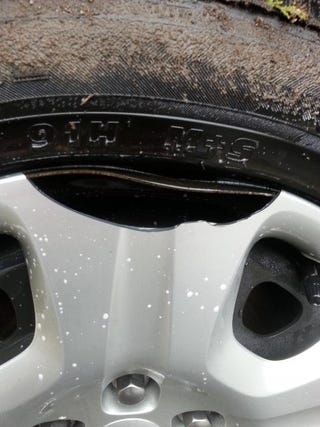 And these fucking pot holes. Somehow this isn't leaking any air, but I don't really trust it for prolonged use.
As for how it happened, last night after watching a few episodes of Doctor Who, my girlfriend and I went for a cruise. The entire time I was dodging potholes and cursing our cheap ass town for not paving the roads right the first time. We were on our way back, about 10 minutes from home, when the left front wheel dropped into a giant crater hidden by an unassuming puddle. It rocked the car like a bomb went off, but it felt fine to I drove it home and promptly forgot to check for damage. So today I drove to work, still forgetting that I may have bent a steelie, and it wasn't until just now that I went out to my car and finally noticed the damage.
So now since I'm not quite ready to drop $500+ on tires for my 17"s, nor would I want to put them on yet, I'll have to buy a steelie or just deal with this until it starts leaking.