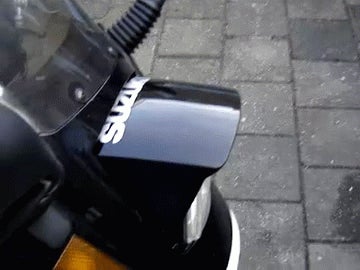 As of late I have had a consistent and unyielding itch to build a thing out of other things, but am so severely limited in funds that my only real progress so far has been to dream about them. Wistfully. So for lack of a better option I'm going to start posting them to Oppo.
And today's fixation, dear opponaughts, is the late 1980s Suzuki Katana 750 S. For why? Because it has a pop-up headlight, and it's a motorbike, and that makes it goddamn cool. I literally have no better justification for it than that. And neither did Suzuki, in the years 1986 to 1988, have any better justification than that when they decided to fit a pop-up headlight to their flagship Katana 750 sports tourer. "Who else has this feature? Nobody!" -Suzuki Motorcycles But you know what? They didn't need any.
...which promptly leads me on to my current obsession with the Katana. I want one. And more importantly, I want to meddle with one. Some research conducted while the boss wasn't looking suggests that the Katana 750 has a frame most receptive to other engines, including the lump, triple trees, shocks and wheels from their Gixxer sportsbike, as well as a variety of swingarms capable of both raising the rear and allowing a much wider tyre profile than the original, classic but somewhat skinny 150/70 17. And by this point, the appeal of a combined razor-sharp classic styling (and pop-up headlight) of the Katana combined with the modern power and handling of a GSXR causes significant amounts of want, not at all helped by the fact that there's no less than two for sale within driving distance of me.
*whimper*
Someday...