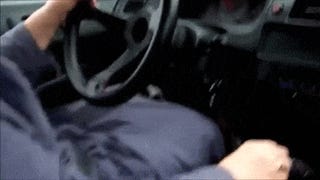 When you think of third age, you don't really imagine that our beoldened ones tend to spend their time driving cars that are popular among, to put it mildly, younger population.
But this granny from Croatia, with her 78 years of life past by, is not an ordinary senior citizen. The video (and the idea itself) came to life thanks to her granddaughter, who made her granny a proposition to try and drive a VTEC Honda Civic with 150HP. That doesn't sound like much to this site's public, but for a croatian granny who spent her whole life driving cars with 70HP or less, it is quite of a leap. Besides, VTEC yo.
Her name is Renata Matoc, and she started driving at ripe age of 23, accumulating 55 years of driving experience by now. Her first car experience was a Zastava 750, a Yugoslavian licensed copy of Fiat 600 in which she took here driver's licence test. After successfully passing it, she bought a VW Beetle 1200 as her first car. During the years came Golf MK1, a Sunbeam, a Lada, and a '99 Renault Megane Classic which is still her DD.
Asked about her driving experience in all those years, she said "At the beginning I was afraid of driving, but I quickly managed to build my self-confidence. I never even scratched or dented someone's car, let alone had an accident."
"Normally I prefer Volkswagen cars, but I fell in love with my Megane and I wouldn't trade it for anything in this world."
When describing her experience driving a somewhat sporty car for the first time in her life, she said that she sat down and drove it like her own. "I didn't like it's low seat position, but it pulls itself quite well. I felt that tires are a bit over-inflated, but other then that - I drove that Honda like Senna", says she.
In response to a question whether the video is going to have a sequel and does she have some special car that she wants to try, she burst in laughter and said that she looks forward to spring when she would like to "experience the Honda properly" on her country estate, where there is a lot more of room to play with.
"I drove many cars of different marques, and when I sit in someone else's car I check the shifter (we drive manuals over here) and all of the pedals. Then I set the mirrors to my liking - and off I go."
She concluded with a wish to try the new Renault Twingo, but nothing electrical because she is afraid of electricity.
This story is a prime example of living your life to it's fullest. And we should.
Source: automobili.hr