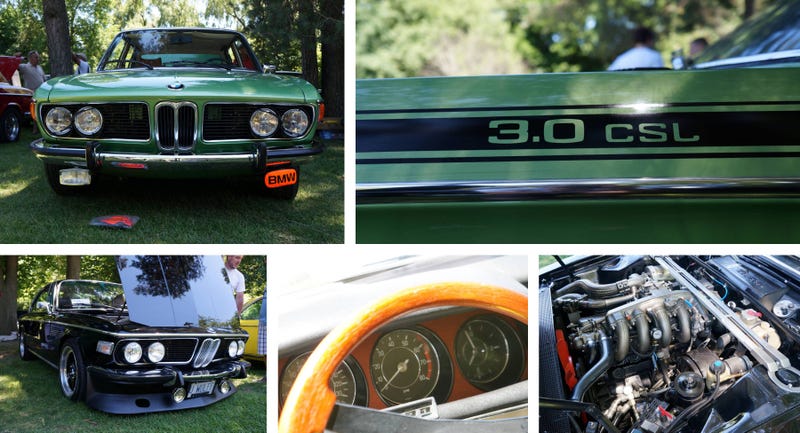 Each year since 2003, Bimmer enthusiasts have gotten together in Mississauga to show off their cars, enjoy the summer weather and chat with fellow owners. This year's event on the grounds of the Bradley museum was well attended by everything from a 2000CS to a Z1 and Z4 M-Coupes.
I'm no photographer so apart from some manual focussing I let the camera do most of the work and I think in many cases it did a rather good job. Full size copies (or at least what imgur cropped them to to get within the file size limit) of each image used in a collage are linked in the caption below each grouping.
Three e9 coupés were parked near the entrance, including the above green 3.0 csl and black 3.0CS with a turbo setup on its M30 straight six. The spiffy dashboard belonged to the third, yellow coupé.
The Neue Klasse, the car that arguably defined BMW had a strong showing with 19 2002s in attendance.
The early 5-series were well represented (12 e28s), highlights were this s38 swapped 528i and a beautiful e28 M5.
17 e24 6-series were in attendance, including a 635csi and a couple of first gen M6s.
There was also this replica art car which looked to be well used with a stripped interior outfitted for track duty.
8 e30 M3s were present, including 2 Evos.
An 850i (with a very nicely done set of wheels) and a Z1 were among the rarer cars at the event. Those doors are so cool.
A few e36s made the trip as well, including 2 M3s and an Alpina B3.
An e38 7-series sporting a drivetrain swap from an e39 M5 and an e39 540i touring also with the engine from its stronger brother. Sneaky sneaky.
A pair of e39 M5s, drivetrains intact, were looking stylish and menacing nearby.
While the focus of this event is BMW a small area near the entrance was set aside for classics of other marques. Among those were a beautiful white Alfa Romeo Giulia 1750, an Alfa Romeo 1900 (2000?) with bodywork by Carrozz Touring, a crazy (Koenig?) widebody Mercedes 560SEC, a very clean Mk. I Rabbit GTI and a couple of Porsches.
If anyone would like to see more of any specific car, let me know and I'll have a look through my photos.