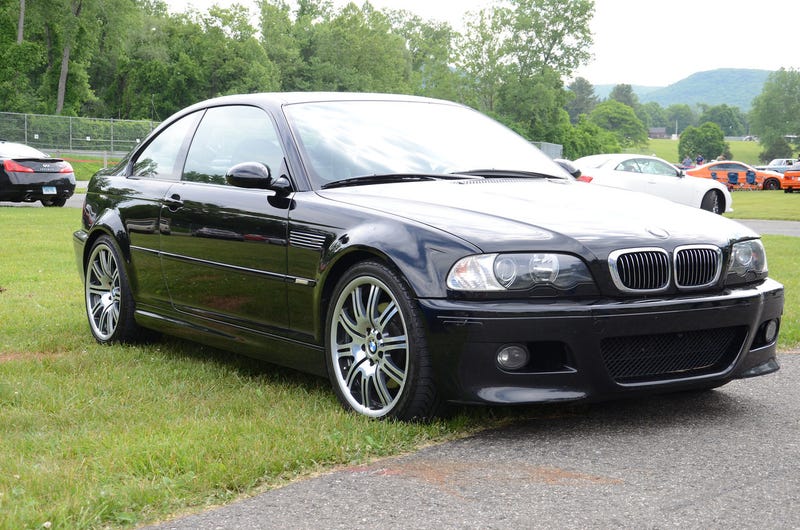 I'll start with an introduction of myself in case you don't know me around here. I'm 24, have a job, and managed to go to college for 5 years and not get a degree. However, my job is pretty good for a 24 year old and the used car market being what it is allowed me to flex my meager financial muscle and buy the Carbon Schwartz BMW M3 you see here.
I bought the car back in May from a dealership in Pennsylvania, I am the cars fourth owner and when I got the car it had a little more than 88k miles. I bought the car without getting a PPI but I had looked at a few previously and pretty much knew what I was looking at/for and it had a full service history, the dealership also was very highly reviewed. (The first two owners were retired brothers and recorded everything) I'll go ahead and say if you're looking at E46 M3's get the PPI regardless of your confidence, because what I did was kinda stupid.
Since the purchase I have put 12k miles on it, done a few oil changes, and had to bring it to my mechanic a couple times. So let's get into this review:
Exterior 7/10
So I give my car a 7 mostly because there are lots of small imperfections. Swirls, a couple really small scrapes, rock chips, and a door ding (small) all of those considered it absolutely crushes the 10 ft test and for a 12 year old car I'll call that a win. The 19-inch wheels don't help much in terms of ride quality and the price of a new set of tires but they look exquisitely good on the E46 compared to the 18's. I get constant compliments on how good the car looks for a 2002 and how much people love the wheels. The E46 might not look modern compared to the E9x or F8x but I think the design will be considered one of the greats in 20 years. Design wise I would compare the E46 M3 with the E9, not quite iconic but will always be tasteful. There are days I go into work or get home and I take 3-4 looks back, it is that good looking.
(Not mine)
Interior 5/10
My car gets a 5 for a couple of reasons; Firstly I bought a car with a slightly roughed up interior because it doesn't matter to me much, there aren't any tears in the leather or anything drastic but you can tell it wasn't sitting in a museum for 12 years. There are a bunch of nail marks in the soft plastic center console compartments and the Titanium finish on the trim is cracked and bubbled, which is very common for early E46 M3's.
Also the soft felt material is un-gluing from my A and C pillars, this is a pretty simple DIY fix and something that will take me an afternoon this winter. If my interior was perfect I'd probably give it a 7. I love the steering wheel probably more than anything else in the car…it's perfect. The shift knob is not the greatest design and I find it uncomfortable sometimes but it does illuminate which is pretty cool and when it is cold it heats the knob up a little which is nice, I plan on swapping out for a ZHP or F10 M5 knob. My car also has a sunroof and the cold weather package, I hate sunroofs so I use it very minimally and I love the heated seats. Speaking of seats, I really like the stock seats and all of the different things you can adjust I just wish I could make the bolsters on the bottom part a little tighter on spirited drives. My friends are all taller than 6 ft and they found the rear to be sufficiently comfortable for a day trip.
Quick fact: the stock leather power seats are only 4 pounds heavier than the sport cloth manual buckets.
Acceleration 8/10
First off let me address one of the inevitable comments, this car has torque it is by no means torque-less. In fact it makes about 80% of its max torque at a nice low 2000 rpm. However if you don't drive over 4000rpm while at the helm of an E46 M3 you better have a damn good reason because from 4000-8000rpm is heaven on earth. The S54 is absolutely savage and probably one of the best motors ever made. Just don't launch it or this motor will remove the rear subframe from the floor it accelerates so hard. The only thing that would make the acceleration better would be the noise from a CSL intake:
Braking - 7/10
It stops? The pedal is pretty firm and the single pistons do a good job for daily driving and spirited drives. For track use a lot of guy's recommend upgrading lines, pads, and rotors for the stock calipers. There are a lot of aftermarket options for brake kits even a couple ceramic ones.
Ride - 8/10
I really enjoy how the E46 M3 feels, its pretty firm but it is never harsh. Apart from pot holes (which you should dodge) and the really pronounced expansion joint it's the perfect blend of sport and comfort. I drove the car from PA to CT (about 4 hours) and was simply amazed by the ride quality. I have the 19-inch wheels and I find the ride to be very bearable for daily use. Sometimes the rear end does feel a bit float-y but that is probably more a combination of my worn tires and worn bushings.
Handling - 9/10
Point and shoot, that is the E46 M3 in a nutshell. The car feels planted and ready to switch directions with the smallest steering input; it feels incredibly athletic. I haven't gotten to track or autoX the car yet so I can't speak to how it handles at the limit. On a couple of my really spirited drives there does seem to be a little bit of understeer but I'm sure a little throttle will even it out.
Gearbox - 9/10
The only time I have had problems finding a gear is when I try to hulk smash the lever into its gate and it doesn't like that. On this sublime 6-speed the adage "slow is fast" remains true to swapping the cogs. I can't heel toe worth a shit because I have size 12 shoes and it feels really awkward try to move that much foot around.
Toys – 4/10
This car is for driving, and I should give it a 10/10 just for the engine and gearbox. I do however want this: http://www.m3forum.net/m3forum/showth…
(Picture Credit: Bavsound)
Audio – 8/10
The S54 howling from 4000rpm aside, one of the previous owners installed a Bavarian Sound Werks subwoofer system and it sounds so awesome it broke the clips to the Sirius XM antenna so that rattles at certain bass frequencies (not awesome). I can also tell the door speakers or tweeters are getting a little old and may need to be replaced soon.
Value - 10/10
I mean do I really need to explain?
Total 75/100
Special Category:
Maintenance – 7/10
I change oil every 4000 miles and it is $130 for 7* liters and the filter, the oil change takes me about an hour and a half. If you budget your money and plan out the maintenance the cost shouldn't scare anyone that works in a job better than fast food service. If you do your research and buy a mechanically sound car with service records, you probably won't have to spend much on major maintenance. There are however expensive repairs on this car but that's why I can not stress enough just how important buying the RIGHT car is. This winter I plan on replacing the ignition coils and spark plugs, this spring will be new tires and maybe some VANOS preventative maintenance, and at the end of summer I'd like to reinforce the rear subframe and new bushings.
*Total 82/100*
Engine: 3.2L Inline 6
Power: 333hp@7900rpm 262lbft@4900rpm
Transmission: 6-speed Manual
Top Speed: 155mph governor limited
Drivetrain: RWD
MPG: 19-20
MSRP: $53,320
All in all, I love this car more than anything I feel so free when I am behind the wheel.
EDIT: If anyone has questions about something I didn't cover please feel free to ask!
*EDIT #2: I actually buy 7 litres and keep a spare litre. I have to buy from a local dealership and the Castrol TWS (10w60) costs $14.98 per litre and the filter is about $18 so after taxes it is $130 and change.