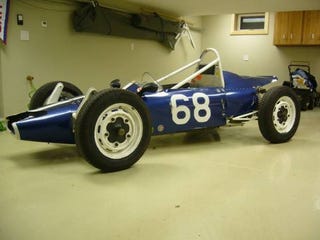 http://minneapolis.craigslist.org/hnp/cto/381654…
Vintage Formula Vee Car for sale-$3500
1968 Viking Formula Vee. Car is legal for vintage racing. 1200cc air cooled VW engine, correct drum brakes, wide five wheels, oil cooler, charging system, fuel cell and fire system. Engine by VeeTech. Car wears McNamara Bodywork. Previous owner was half way through converting car for his taller son when project stalled. Continue that conversion or go back to original. Also some damage to the nose.

Car comes with a set of treaded trailer tires for rolling around in your garage (pictured on the car)and also comes with an extra set of wheels for you to mount your race tires (currently has a set of old hoosier race tires mounted). Also included, second set of pedals and extra blue and white paint.
I'm looking for ways of getting into racing sometime, and I think starting off with something simple like this would be pretty cool. My parents could never afford Karting for me, but this is the next step up. I think I would first try autocrosses with it, then get into the FV racing.
Not saying this is happening tomorrow, but I think its pretty cool and super cheap. Wouldn't be too hard to get it up to modern spec, I think. Anybody with experience on here who can let me in on the details?