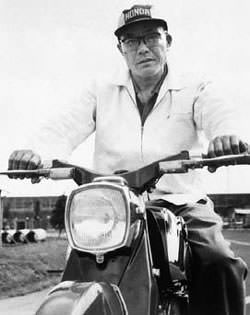 Another week, another Question of the Week over at Japanese Nostalgic Car. While this weeks question has brought out nearly everyone (What's the worst mod you can make to a classic car?), usually it's followed by one answer from last week that has tickled the fancy of the editors there. And what an answer they picked.
G Duncan is a former sales rep for America Honda, and he regaled a tale about Old Man Soichiro that even sent the editors at JNC scurrying for the books over who was the Baddest Japanese Car Company Preseident ever.
This part caught the attention of JNC:
In some ways this reminds me of Mr. Honda getting furious when he heard the chairman of GM making this dismissive remark about the CVCC engine (after both Ford and Chrysler had bought the rights to it in the summer of 1973): "Well, I have looked at this design, and while it might work on some little toy motorcycle engine…I see no potential for it on one of our GM car engines."

When Mr. Honda heard this, he bought a 1973 V8 Impala, air-freighted it to Japan, designed and cast a set of CVCC heads for the Chevy engine, tested it in our own emission labs, then flew the car back to the EPA's facility in Ann Arbor, and had it tested by them…where it passed the stringent 1975 emissions requirements. You didn't mess with the old man…
Okay, before we get any further, a little primer. According to intro to the Wikipedia article on the CVCC:
CVCC is a trademark by the Honda Motor Company for an engine with reduced automotive emissions, which stood for "Compound Vortex Controlled Combustion". The first mention of Honda developed CVCC technology was done by Mr. Soichiro Honda on February 12, 1971, at the Federation of Economic Organizations Hall in Otemachi, Chiyoda-ku, Tokyo. Honda's engineers at the time, Mr. Date, conferred with Mr. Yagi and Mr. Nakagawa about the possibility of creating lean combustion via a prechamber, which some diesel engines utilized.The first engine to be installed with the CVCC approach for testing was the single-cylinder, 300 cc Honda EA engine used in the Honda N600 hatchback in January 1970.This technology allowed Honda's cars to meet United States emission standards in the 1970s without a catalytic converter. A type of  stratified charge engine, it first appeared on the 1975 ED1 engine. As emission laws advanced and required more stringent admissible levels, Honda abandoned the CVCC method and introduced PGM-FI, or Programmed Fuel Injection on all Honda vehicles. Some vehicles in Japan had a combination of electronically controlled carburetors, called PGM-Carb on specific, transistitional Honda D, E and ZC engines.
The standards were a part of the 1970 Clean Air Act. Honda eventually signed agreements with GM, Ford and Isuzu to provide CVCC technology in due time for those automakers to be in compliance with the act by 1975.
But, how did someone at GM manage to piss off Soichiro-sama? Well, according to G Duncan, the bonehead GM guy said this:
"Well, I have looked at this design, and while it might work on some little toy motorcycle engine… I see no potential for it on one of our GM car engines."
(Insert snarky comment about buying something eagerly and then badmouthing it behind people's backs)
Well somehow this comment reached back to Soichiro-sama and he sought to prove this GM guy wrong. The plan was simple: grab a car, ship it to Japan, perform the CVCC modifications, do the tests, and prove this guy wrong.
The car Soichiro-sama chose was the 1973 Chevrolet Impala. He had the car air-frieghted back to the Land of the Rising Sun and began to work. CVCC heads was designed and fitted to the engine of this car and then tested in Honda's own labs. Once done, it was shipped back and given to the Enviromenal Protection Agency and they did their own tests. The results?
It passed and met the 1975 requirements.
But there is a bittersweet tale to add to this. When it was time to see if the automakers would be in compliance to the Clean Air Act, only two companies made the cut.
Honda and Mazda.
It took a few more years before the Clean Air Act got off the ground and all the car makers were on board. Of course, there is one thing one can learn from this. Never piss-off Ojīsan. Especially when he has the mechanical chops to prove you wrong.