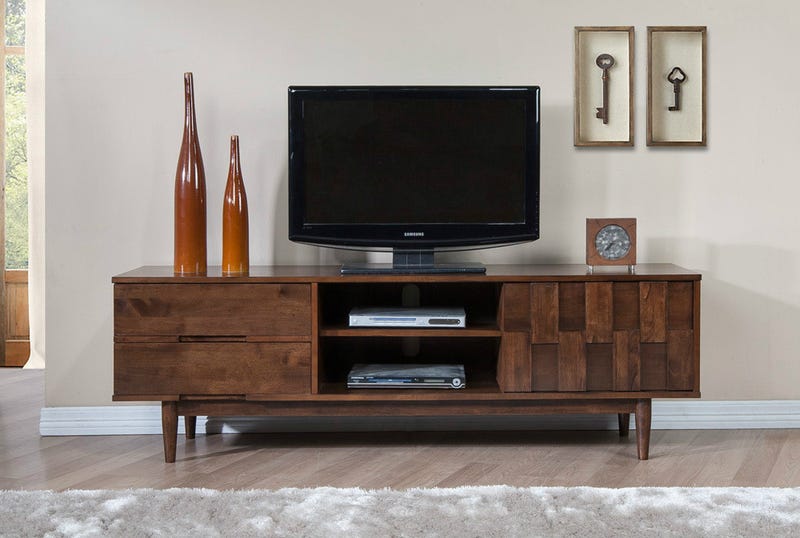 My fiancee and I have been searching for a new tv stand for far too long. There's this sorta mid-century modern sofa we've been eyeing because A) I like mid-century modern stuff and B) the wood back will be less appealing for our cats to scratch. Finding a tv stand to match has been challenging.
This is the sofa we're planning to get:
I think the tv stand we picked goes pretty damn nicely with this sofa if I do say so myself.
Right now, I have a couple of 18 year-old Infinity Reference bookshelf speakers hooked up to a 7 year-old Onkyo stereo (not surround) receiver. I've never been a huge surround sound fan and haven't felt compelled to add a subwoofer, especially since we live in a townhouse with thin walls and recently narc'ed out our neighbors to the landlord for refusing to turn down their subwoofer.
But, with more and more tv shows and movies having surround audio tracks, and my stereo receiver, it's becoming common that dialogue gets lost in the mix. We have to turn the volume up too high to hear the dialogue and then end up with blasting sound effects or music. I adjust the volume a whole bunch throughout the course of a movie.
I know that getting a surround receiver and a center channel speaker would fix this, but we have a ratty old Sauder tv stand that my fiancee bought before we moved in that has cabinets in the middle and nowhere to put a center channel speaker.
Anyway, we ordered the tv stand, and another thing I ordered is this swivel base for the tv because my fiancee likes to swivel the tv and right now we just kinda pick it up and swivel it on top of the stand, and I discovered that there are these optional mounts to hang a sound bar from your tv.
I sent my fiancee a much-less-detailed email about this today while we were at work:
To go with the swivel tv base, I can also change the stereo to add a little speaker hanging from the tv. This speaker would be a little bit bigger than the sound bar upstairs, and hang from the bottom of the tv so it'll swivel with the tv, and it'll make the dialogue much clearer. A bonus will be we can hook our phones/tablets up to the stereo over bluetooth instead of having to plug in. Interested?
The response:
Cool!
Well, that was easy.
I'm going to get a Yamaha RX-V381 receiver, wall-mountable (i.e. compatible with the sound bar mount) Definitive Technology ProCenter 1000 speaker, and the mount. Fun.