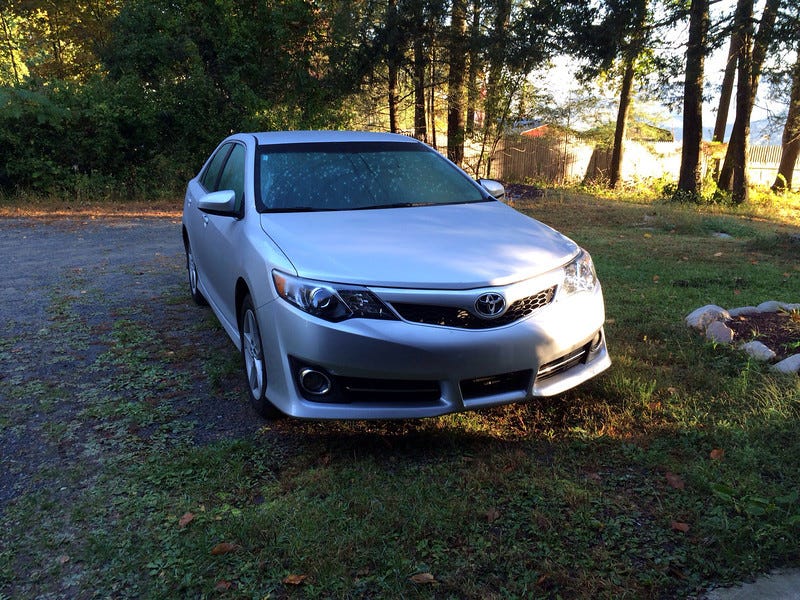 The Toyota Camry is the most popular (in terms of sales) mid-size car in America; having take the crown from the Taurus when Ford decided that Explorers and their once revolutionary sedan was left to die on the vine for a few years. The Camry is also a name that elicits the passions of car enthusiasts like few other models, but for all the wrong reasons. Enthusiasts HATE the Camry. They see it as symbolic of everything that is wrong with the "automobile as appliance" philosophy. They call it bland. They call it beige.
It wasn't long ago that beige was an exciting color, with words like "Gobi" and "Savanna" preceding it in color chip books for muscle cars and luxury sedans. Beige is also a close cousin to khaki, a word that today may conjure up "Casual Friday" but at one time described the clothing of choice for adventurers, explorers and people who generally did much more interesting things than you and I.
So the Camry is beige. But is beige boring, or is beige is just khaki with nothing interesting planned?
(Full Disclosure: Toyota wanted me to drive the 2013 Camry so bad that they arranged to have a family friend back his brand new F-150 into the back of our regular ride, a 2013 Passat TDI, forcing it into the body shop for a month and us into an Enterprise rental. It was almost a Nissan Versa, so this write up could have been much, much worse.)
The current Camry was introduced in 2011, and is the ninth generation in the Camry line. Testing a Camry brings with it more baggage than most cars. Every time I thought critically about some element of the Camry, I found myself taking a step back, asking myself if I really felt that way or if my opinion was tainted by what others had said about the car.
EXTERIOR (5/10)
"You want to appeal to 90% of buyers, 90% of the time."
Is the mantra of Scott McGillivray, home improvement expert and host of "Income Property" on HGTV, a program that turns unused spaces into rental units for enterprising homeowners. The idea is that a flashy color palette and curious styling choices make us feel good as an individual, but they make converting your dip into your home's equity into a mortgage-free lifestyle a difficult task. Automakers face a similar conundrum; go for cutting edge (and possibly polarizing) design and engineering decisions and hope you start a revolution, or play it safe, make a reliable – if a bit boring – vehicle and drown your creative sorrows with volume sales.
Two words quickly came to mind when looking at the Camry (three, if you count my wife's reaction, "Ugly."); tumblehome and Q-Ship. The body starts narrow at the roofline and continues to widen to the rocker panels. In a way it reminds me of a vacuum-formed remote control car body, where you can't have inward curves to prevent you from pulling the body from the mold.
Otherwise the Camry is subtle to a fault; it is sort of just there. With a V8 and rear wheel drive, the Camry could be the ultimate Q-Ship.
INTERIOR (6/10)
Unlike the utilitarian exterior, the interior earns some style points for things like real French stitching across the trailing edge of the dashboard and for comfortable chairs front and rear. The instrument cluster consists of three dials with four needles; speedometer, tachometer, fuel gauge and a mystery "fuel economy gauge" with a scale from 0 to 60 MPG. No matter how I drove, I never saw the needle deviate from about 28 MPG as long as the car was running. I never quite figured out what this gauge was trying to tell me. Secondary LCDs handled engine temp, gear selection and odometer duties.
The Camry interior is not without its idiosyncrasies. The buttons on the steering wheel are big and a bit clunky, more at home on a truck steering wheel than on a family car. The wiper stalk operated opposite of what I've gotten used to once I went back to driving Volkswagens full time, and power window lock, which in most cars disables the rear window switches, locked out the driver's control of all but the driver's window. One touch up and down is also a driver's window only feature.
ACCELERATION (6/10)
It goes, but it is nothing earthshaking. These days you'd be hard pressed to find a truly underpowered midsize car. With 178 horsepower at a screaming 6,000 RPM, the Camry SE's 2.5 normally aspirated four is less powerful than most of its competitor's fours, but it still has plenty of juice to get you overtake slower traffic without having to think about it too much.
BRAKING (5/10)
It stops. Most of my driving was in stop and go rush hour traffic, so I didn't have much of an opportunity to blacken the front wheels, if you what I mean (and I think you do).
RIDE (8/10)
Despite what Kyle Busch or Coach T try to tell you in commercials, the Camry – particularly in rental car form – isn't going to win any autocrosses. It is sprung and dampened to be a comfortable family car and it fills that role well. Grounded to the ground? Whatever.
GEARBOX (7/10)
"Seven out of ten for an automatic transmission, are you insane?"
Perhaps, but the transmission earned the seven for one or two very good reasons. Our rental was equipped with a six-speed automatic transmission with a sport mode and steering wheel mounted paddles. Starting with the low expectations that one should have for this type of transmission in this segment, I was pleasantly surprised that the paddles were left=downshift, right=upshift, as God intended. There was a noticeable difference between the sport and regular shifting programs, and manual shifting via the paddles was somewhat manual. The car never forces your hand on upshifts, and on more than one occasion I found myself bouncing the engine off the rev limited. The transmission does prevent you from over downshifting, which is fine. The car doesn't have a clutch pedal, but in a car like this I don't know that having one would make it significantly more enjoyable.
AUDIO (4/10)
When discussing the merits of electric cars, one topic that comes up is how quiet they are and how blind pedestrians are in danger from these silent killers. I can't say that the Camry was significantly louder than any Tesla or Nissan Leaf I've heard on the road. If you're looking for a throaty exhaust, this car – and this segment – probably isn't for you.
The sound system in our rental grade vehicle was – again – adequate, but not earth-shattering.
TOYS (7/10)
Rental cars generally do not have much in the way of toys, and the Camry was no different. The Bluetooth was easy to set up without needing to consult the manual, and once set up it connected to my iPhone 5s quickly for hands-free talking and access to my music. The system was not without its flaws however, as on a couple of occasions I had to repair (or is that re-pair) the phone, the file system would not import my entire library, and I could never get shuffle or repeat to work properly.
Most annoying of all was the inability to turn off the display. Is it necessary to tell me the audio is off? I know, I'm the one who turned it off!
VALUE (10/10)
Pricing for the 2013 Camry starts at $22,235 for the base model, with a top of the line XLE coming in at $33,910. Of course being a rental being paid for by the other party's insurance, all we had to pay for was gas. This represented incredible value for us. I realize this is a bit of a cop-out, but… yeah, it's a bit of a cop-out.
FINAL SCORE: 60/100
The Camry is everything everyone claims, but it is nothing that anyone charges. The Camry fills a need and fills it well. I can't think of a single scenario where I would purchase this Camry, but if I were to come to possess one, I wouldn't rush to get rid of it.
Is that too vague? I guess that is what the Camry is. The Camry is a background, not a center of attention. It is inoffensive in a world where offensive gets you noticed. It may stir emotions in someone.
Just not me.