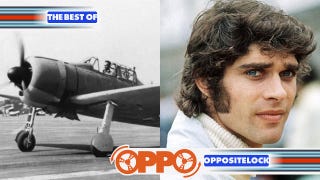 Assembled here are the best Oppositelock posts from Monday and Tuesday. Today we've got a captured Japanese fighter plane, overlanding in Moab, car films that should never be remade and more.
In the early days of WWII, the Japanese Zero fighter, which was more maneuverable than anything the Allies could field at the time, ruled the skies over the Pacific. In one battle in April of 1942, 36 Zeros attacked the British naval base at Columbo, Ceylon (modern day Sri Lanka). About 60 RAF aircraft rose to meet them, a mix of different types, many obsolete. After the battle, almost half of the RAF planes were shot down: 15 Hawker Hurricanes, 8 Fairey Swordfish, and 4 Fairey Fulmars. The Japanese lost 1 Zero. Early in the war, the Zero enjoyed a 12-1 kill ratio.
Today would have been the 70th birthday of one François Cevert, once dubbed 'The most exciting man in France' and team mate of Jackie Stewart at the Tyrrell F1 team between 1970 and 1973. Despite his short time in the world of Formula 1, Cevert was highly regarded as a very promising prospect and a fine exponent behind the wheel.


Many automotive enthusiasts are fairly well-versed in the art of online "For Sale" listings posted on anything from Craigslist, to eBay, or even the perpetual dinosaur that has become AutoTrader. As someone who has been driving for about twelve years, is a deeply-rooted enthusiast, and has owned a greater volume of vehicles than years spent behind the wheel, I have become somewhat of a classifieds junkie.
Without going into too much detail I feel like there is just too much variety in the world to lock myself into one car, or one driving mentality and, in addition, I felt a strong urge with the passing of my father to explore and find out what the under traveled parts of my own backyard, and beyond, had to offer me. Don't think that I don't miss the canyon carver, or that i don't still love the joy of a real fun car but at this point in my life the thing that called to me most in the Jalopnoverse...was overlanding.
Porsche CEO Matthias Mueller says that the luxury sports car manufacturer will exceed its 200,000 deliveries a year target three whole years earlier than anticipated, purely because the demand for the Porsche Macan will be so high. The Macan is without a doubt going to become Porsche's most popular model by next year, so what could lie in store for Porsche's current best seller, the Cayenne?
Hollywood — the southern Californian sideshow circus hiding behind a fashionable facade of silicone and Botox — has produced some wonderful films in the 102 years since the motion picture industry first set up shop there. Some of those films have even featured the four-wheeled, many-piston engined object that has united us as automotive enthusiasts, and as a result, warmed our hearts and captured our imaginations.
A casual surfer of the Miami craigslist will find bizarre overpriced classics that may lend you to think the builders are high on bath salts; but you would be wrong and many are located in Cuba. Join us as we explore the awesome underbelly of turbo diesel powered vintage 'Merican classics in Cuba. Also check out A Critical Comparison Of Two Classic Triumph Coupes On Ebay.
I've liked Saab as long as I can remember, my first experience being my grandmother's '94 900S. I didn't know a whole lot about the company, or the cars, but I knew it was different than any other car I'd ever been in. That all changed around 2007... I remember that summer, the summer after my parents split up, my dad and I were packing up his rented Mustang for a long weekend down at my grandparent's beach house in Ocean City, Maryland. As we were closing the trunk, my grandpa came out and mentioned an '89 Saab down in Toms River that he saw in the paper. I asked him if he was going to check it out, and he laughed and said "I'm not getting a 20 year old Saab!" Less than a month later, it was in his driveway, and he was enamored with it.
I'm working really hard here, trying to remember a time when we had such an awesome choice in cool new sports cars. I'm only able to really recall back to the early 90's from Japan and Germany or the 1960's from Europe and America. Whether it was the XKE of '61, the 911 of '64, or the Alfa Romeo GT105/115V's from 1967, there was a lot to look forward to in the 60's. That's completely bypassing the gorgeous Miura, Ferrari 250GT series, or the awesome Corvette Stingray. For the 1960's, we really had it made in terms of a variety of fun. Even Japan was getting in on the mix with their 2000GT, S30, and S800's.
So last night as my girlfriend went to the gym I got rid of the fluffy geometric shapes and started unpacking some of the hotwheels cars. I made a quick selection based on colours and models and attached them with a small piece of rope. That night she put her in bed... She came back downstairs, she wasn't very happy but she wasn't pissed either and after some discussion she let me keep the new mobile.
Discussions about cars that never came to North America are very common on Jalopnik and Oppositelock. In this new series we'll discuss whether automakers made the right choice by not bringing certain models to the US.
So I've been hearing that there's some talk over there in the USA is that the brands VW owns are actually more attractive propositions than VW itself. I think this is a point worth exploring. So here we are, a very simple and brief model vs model showdown between some of the best selling cars from the brands… Going from small to large, here we go...
The Scout is typically dormant for the winter, since the heat is poor, the weatherstripping is shot, and it's way less fun to drive with the top on. You might think that this would be prime "make progress on the project" time, but you would be wrong. Between getting settled at my new job, and the polar vortex (and related snow and ice), and my decided lack of a garage, or willingness to freeze my ass off, mean not much has been going on with the Scout. This weekend however, was absolutely gorgeous here in central Virginia, and my wife and kids were out of town, so I decided it was time to get in some work.
Here are some facts about me. I drive a 2006 naturally aspirated Mini Cooper, I love cars, and I live in rural Louisiana. Being a guy and driving a Mini in Lousiana really makes you pop out. Sometimes this is a pretty fun thing. The closest Mini dealership is over 150 miles away so I have one of only three Minis in town, which makes it kind of like driving a Lamborghini. Every time you stop at a gas station someone's going to ask you about it…
The Volvo s/v40 was a joint venture between Volvo and Mitsubishi and there was a bit of part sharing. So it's like an Evo wagon, right? RIGHT? Wellllll no. It was a more entry level Volvo and mine had a sports package that added a spoiler and a winter package that added a button that could break the transmission!
One of five special edition Silverados sold by a dealer (which is now out of business, btw) It came right off the showroom floor with a 6 inch lift and 35 inch mud tires. This truck should have never seen this space on our driveway, at least according to my mom. It was purchased from a dealer an hour away in Pacific as a heat-of-the-moment sort of thing to replace my dad's always troublesome '99 Tahoe. Having spent that last 10 years in my father's hands, it has been through a lot with us and really caused us no trouble, besides the massive bill to replace the 35" tires. I've always wanted to do a review of it and finally signing up for this site has given me the chance to, so here it goes.
First, an introduction to this series: I intend to review the cars I have owned and/or driven extensively. A simple idea. I'm doing it for myself in order to remember the great, and not-so-great, vehicles of days gone by, and I hope that you the reader gets some enjoyment out of it as well.
Whether it was Yacco himself, or Ricardo Montalban, the 1982-86 LeBaron K convertible had plenty of marketing power behind it. After 5 years without an American convertible on the market, Chrysler cut the roof off a Plymouth Reliant 2-door sedan, added more tinsel and chrome, and sold it as the LeBaron convertible in 1982. It would be their first drop-top since 1970. For '84, the LeBaron picked up Chrysler's new 2.2L Turbo I4, giving it enough torque to wrench the wheel out of your hands at the same time the flaccid cowl was trying to shake it out.
For many people, getting their first car is a momentous achievement. Even people who aren't in to cars will still remember what it was and can relate several events to it. The first car can be either something loved or loathed, but the memories it creates last a lifetime. Today, I would like to say why I think that the E36 platform of the BMW 3-seires is the best car to start out life with.
At the Louisville Auto Show you will not see new models from Bentley, Porsche, or even Audi. But who gives one good goddamn about them, anyway? Those are brands for those one-percent snobs who eat expensive caviar and read The Wall Street Journal while sitting on a gold-plated toilet twirling the ends of their mustaches or whatever it is rich people do these days. Chrysler was there and they brought along the new 200 mid-sized sedan. And let me be the first to say it was pretty freaking great.
Susie Wolff will help the Williams F1 team in 2014, expanding her role at the team to a development driver participating in 2 race-weekend practice sessions and a full test day, and I genuinely am rooting for her success in Formula 1, for whatever reason.
The Best of the Rest
Beldrueger found a Delta Integrale Evo II in Evanston, IL. PJV attended a classic car meet in Portugal. Andy Sheehan took a few pictures of a car and interviewed some men [Ken Block and Travis Pastrana]. Dukie stopped by the XXX Rootbeer Import Meet. MoparKetchup took his charger to the Italian Car Show in Austin (Part 2). Jonee saw the world's most Jalop car collection. Jagvar went to C&C in Great Falls and met Tanner Foust. PushToStart visited the DFW Auto Show. Blake Noble time travelled and visited an AMC dealer. Willkinton247 attended Katie's C&C. Straight6PackRacing bought his dream car. Djmanila sold and delivered the first M235i in the US. BlazinAce shared some new pictures of his Tipo. Velocity went to the Knoxville Auto Show. APiDAOnline shared some desert hooning video. Mastapoof took photos at C&C in Kansas City. 505Turbeaux bought another Audi.
---
As always, If I've missed something and you would like me to include it, let me know.
Fun Discussions
There were several posts that asked questions and sparked some good discussion on Monday and Tuesday. Take a peek and chime in on some of those listed below:
Just the #tips
Honorable Mentions
These posts have already been shared with Jalopnik directly but deserve to be mentioned again because they were first posted on Oppositelock:
Want to participate on Oppositelock? Check out the handbook for posting on OppositeLock as well the Oppo tools to help you get started.