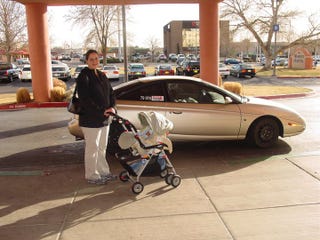 Continuation...
(My Son coming home from the hospital in my STS prepared Saturn in 2006)


I started writing this for my son. He loves cars and is currently 7 years old. For most of his life I have been working (slowly) on a project car. He can't remember when I got it, he doesn't remember all of the work put into it. All he knows it that with some help from a few friends I've built it and now it runs. Now that it runs he loves to ride in it. Like any project car, my project is far from done. But now it is a safe, working car. In about a month my 4 member family will be taking this car and my Lotus on a 3 day 1000 mile tour of the state with a bunch of other older cars.


My son doesn't even know about the cruise yet. He doesn't know I'm pulling him out of school for a day and making a long weekend to take him on it. But I know that when he gets to be older he will probably remember this trip. If he is ever wondering how the car we are taking on the trip came to be, this is his answer.

With the car's transformation from driveway art to car. I feel like I should write this down while the memories are still fresh. I've decided that not only should I put it down for him, but perhaps others would like to hear the tale too.

As you can see this is going to be a multi-part thing. I'm putting it all together from memory so things sort of come out in blobs. Some folks may or may not enjoy that. Also, I'm going to refrain from talking too much about the cars make. If you can't stand that, feel free to look at past posts of mine. But I don't think the make of car is important. This isn't about one make. This is the story of a car, a story made for a boy who may one day want to know more about the car his dad built.
Part One

Part Two:

A close friend I worked with sacrificed his lunch to help me go buy the car and bring it back. It barely made it the 15 or so miles back to the office. But that didn't stop us from doing what any car nuts would do and went out on shake down run. Without surprise in the 2 days since I drove it last absolutely nothing on the car worked any better. The engine still ran poorly, the car still wandered around so much that a sober person would be charged with a DUI and it still had a musky stink. But it was my poorly running, wandering stink bucket.