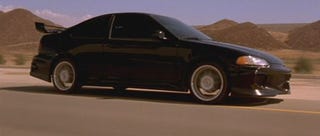 As far as I can remember, I've always been 'into cars.' I was constantly exposed to the mechanical aspects of cars since my grandfather (who was a master mechanic at a Ford Dealership that specialized in rebuilding transmissions) and my dad worked on the family cars more than occasionally. However, when I was younger, I identified more with Nintendo than Mazda.
I vividly remember the day I saw the original Fast and the Furious for the first time, since it had a profound affect on me. My mom and sis were out for the day so I went to blockbuster with my dad. Pops picked out this car movie, we headed back to the house and put it in the dvd player.
My eyes were glued to the TV. It wasn't the story, the acting, the driving stunts that had me hooked; those were all secondary. For the first time, I realized that there was an automotive culture. There's this ultimate form of self expression that can be had through your car...not only can you modify the car to your liking...you can make your car the mechanical equivalent of you.
I was blown away by this concept.
You can tune the car to make it faster?! I can make a ho-hum grocery getter into a full blown Ferrari killer? What a notion! These ideas were all new to me, and I embraced them.
Being thereabouts 14 years old, I was just starting to define who I really was. I subscribed to all sorts of car magazines (Super Street sticks out in my mind the most), and read into all sorts of builds. My dad saw this burgeoning interest and nurtured it by teaching me all the technical aspects of engines, suspensions, transmissions, you name it.
Fast forward 10 years: I went to school for mechanical engineering and am making a profession of it. I obsess over my Miata, Focus ST and shell of a fox body mustang. Much like my fellow Oppos, my mind is centered around cars...and automotive culture is at the very core of who I am.
And to that I have to give thanks to Paul Walker and the F&TF family.