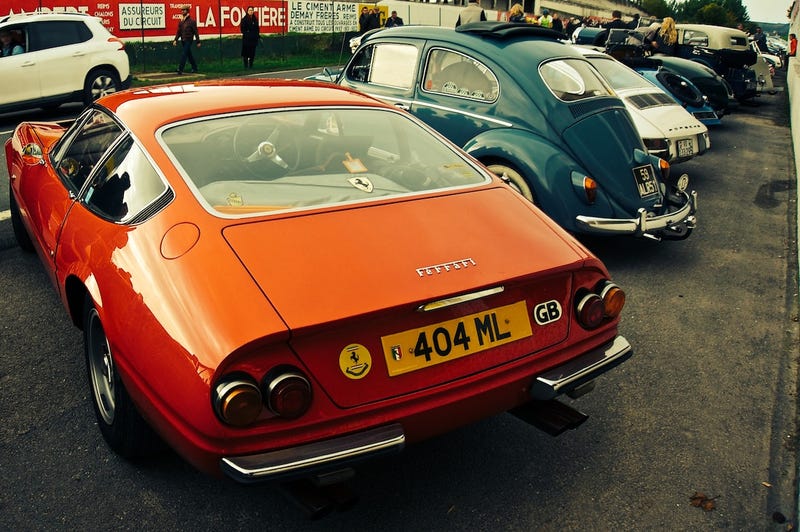 Imagine the perfect autumn classic car gathering. You would want an eclectic mix of cars, from Mini Coopers and Beetles to Bugatti Type 35s and Ferrari 275GTBs. You would want to see these cars in motion – both on the track and on the road. You would want sympathetic weather and, of course, interesting people, with a cross-section of owners and drivers from around the world.
Put all of the above together and you get the Journées d'Automne (Autumn Drive) held in the Champagne region of France on the 19th and 20th of October. Organised by ProFirst and Ecurie Epicure with support from Veuve Cliquot and Chapal, it has been running for a few years, initially based around the Mas du Clos circuit. In more recent years it has moved to the Circuit des Ecuyers, about 30km west of Reims. After my last trip to the area with Octane magazine in 2012, I was keen to get the Daytona back on those open French roads, and this event was the perfect opportunity for this.
The Champagne region is a reasonable 4-hour drive (plus the 35-minute Eurotunnel crossing) from my base in the south-east of England. My wife and I headed down on Friday afternoon in the Daytona, travelling in convoy with Jonny Shears and his father Mark in Jonny's Alfa Romeo GTV.
French autoroutes are fast and generally smooth but not very exciting. The Daytona is an ideal companion to eat away those kilometres, pulling just over 3000rpm at the French national limit of 130kph. I suspect it was a little busier in Jonny's Alfa, but as it is fitted with a fast road 2.0 litre engine, he had little trouble maintaining station with the 4.4 litre V12 Ferrari.
Read the rest on Drive Cult