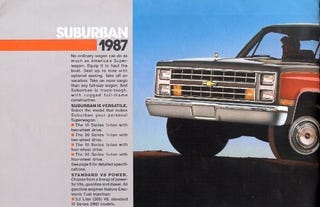 People rip on me for always telling stories where used car sellers do bad things. But I can tell you of one who was my hero. And he didn't sell a car to anyone I know.
A client of mine bought a used diesel Suburban from a small car lot. It was sold As-Is. She took it for a test drive and it seemed fine. The salesman also told her it was a "one-owner" vehicle. A few days after the purchase, the engine exploded. She had it towed to a shop she trusted and the mechanic called her with the news. "The crankcase was filled with something heavy - like gear lube. That is why you did not hear the rod knock which led to the engine failure." The mechanic saved some of the fluid to show her. He was a certified master mechanic and later became our star witness.
After getting nowhere with the dealer who hid behind his As-Is disclaimer , we filed suit. I rarely file suits for As-Is vehicles because of the difficulty of proving that the buyer was entitled to anything. But here, we could show that the defect in the engine had been hidden from the buyer, which created a case of misrepresentation. Misrepresentation is a common law cause of action, related to fraud, where a party to a contract conceals or withholds information which the other party has a right to know. Whole books have been written on it but that one-sentence definition will work for these purposes.