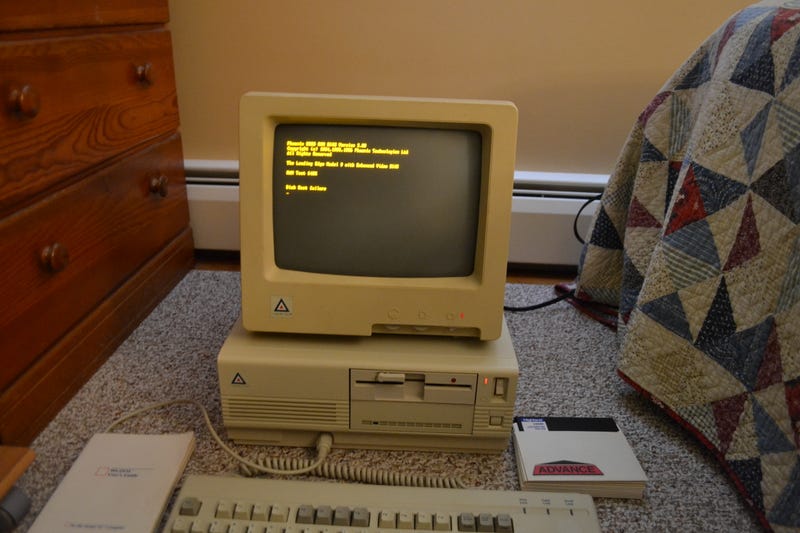 The Leading Edge Model D is finally back up and running! Sort of...

I was finally able to track-down the proper monitor, which is unsurprisingly hard to find. This computer has been in the family since new, but some of the peripherals have disappeared over the years (I'm also missing the awesome DC-2014 keyboard that came with these).

Now, for a bit of information on the computer itself:

The Model D was a simple computer. This version (2011E) featured an Intel 8088 that could run at either 4.77 Mhz or 7.16 Mhz, 640k of RAM, and dual 360 kb 5.25 floppy drives...though, one of the floppy drives was replaced (I still have both though)...

...with a Seagate ST-238R 30 MB hard-disk drive and 8-Bit ISA controller. The last time this hard-disk drive had run before was probably ~20 years ago. It fired right up, but that's as far as I tested it.

It also has an add-in RAM expansion card; a DFI 8-Bit Rambank Expansion. I know nothing about this setup except for the fact that it is filled Siemens HYB41256-12 chips.

The Leading Edge Model D shipped with MS-DOS 2.11 in the early days, but I believe this came with either MS-DOS 3.2 or 3.3. That's the main issue I'm having now...

I need to track down a copy of DOS 3.2 or DOS 3.3. That shouldn't be too hard. However, actually creating the disk is going to be annoying. I have to put my spare 5.25 360k floppy drive into one of my computers that still has 5.25 360k floppy support (most likely one of my Gateway 2000s). The only computer I have running at the moment that has a 5.25 floppy drive has a 1.2mb drive, which doesn't do well writing 360k disks...

While I'm at it, does anyone have some suggestions for good early DOS software and/or games?