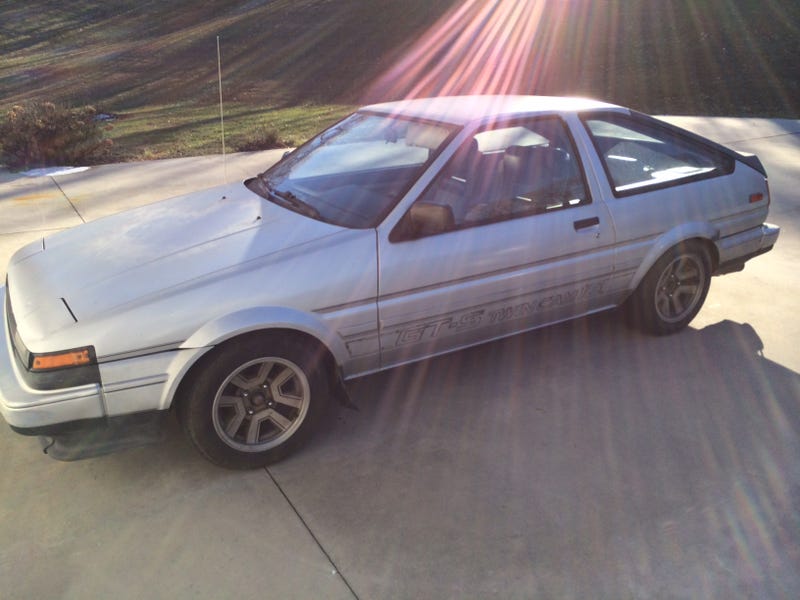 Wish granted, for both parties.
First, a little back-story. In the early '00s, I went to college. I wasn't big into sports, I wasn't really all that into partying, but I was REALLY into cars. Saw a flyer one day walking across the grounds at UVA about a un-official UVA car club (UVA didn't want people thinking they endorsed a car club at the time so we had to call ourselves CAV for Cavalier Association of Vehicles). Met my current best friend there. He was living in the Japanese Language House. Initial D had a cult following there. I watched it and like many, I was seduced by the "alure" of the AE86. I moved on to the flesh and blood of Best Motoring and ended up saying "some day" to the idea of owning one.
Fast forward a decade and Patrick's article pointed me to an ebay listing. I read the listing and followed it with my ebay app. I occasionally checked to see where the bidding stood but once it got over $4k I stopped following as closely. The auction ended and I checked to see what it finally went for. To my surprise, three bids were retracted and it went for under $4k. To my greater surprise, I found out the car was two hours away in NC and a few minutes from some family in Asheville. Knowing how often eBay car auctions fall through, I texted the seller and said if the buyer backs out that I'm two hours away and would love to come by and take a look. Sure enough, the bidder wasn't serious and I found myself test driving an AE86 on New Year's day.