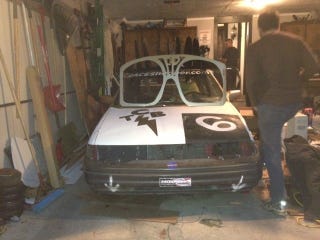 Next weekend we will be taking part in our 6th LeMons race in Kershaw, SC. The car is ready and so are we.
Last time we finished 2nd in class and 7th overall. We are looking to win class B this time. We did win the Grassroots Motosports "Most with the Least" trophy last time and it would be cool to repeat that this time. We even have a sponsor in Raceshopper.com helping us out with some Hawk pads. Cool stuff.
My wife and team driver, checks out the seat for comfort. Our future driver thinks its cool too.
The king enjoys a slice while checking out his perfectly styled hair.