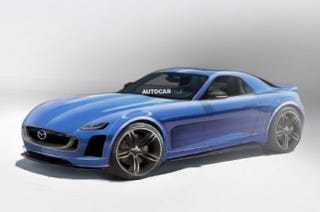 ...in 2016. The assumption is taking hold of the 2-seater flagship being powered by a 1.2 liter, normally-aspirated, 250bhp rotary engine and the chassis, and possibly engine, being based off the 2015 Mazda MX-5 that is already well on it's way.
If that is to be the case, then the Mazda/Alfa Romeo partnership that was established to introduce the Spyder/Miata shared platform is looking to take the struggling Japanese company a whole lot further than initially planned.
The work is being done under chief designer Ikuo Maeda, whose father was head of design at Mazda in the 1970s when the original RX-7 was created.

Maeda says he doesn't "yet know what a new coupé should look like". But he jokes: "I want it built before I retire!"
[AutoCar]