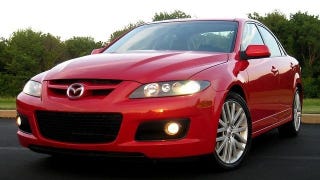 The Subaru STi and Mitsubishi Evo are all-wheel-drive rally machines for the street that combine tenacious all-wheel-drive grip, 6-speed gearboxes, turbocharged engines and sedan convenience...but...huge wings, vortex spikes, hood scoops, & pink emblems make them less than desirable to the discerning gentleman driver.
Enter the Mazdaspeed6, the grown-up version of the STi/Evo offering 9/10ths of the performance in a plain brown wrapper, same turbocharged mania without the boy-racer looks. Find this 2006 Mazda Mazdaspeed6 for sale in Fredericksburg, VA currently bidding on ebay for $3,150 reserve-not-met or $10,000 buy-it-now.
The Mazdaspeed6 is more than just a tarted up version of the Mazda6, if offers a significantly more performance focused package, starting with a turbocharged and direct injected MZR 2.3 liter 4-cylinder engine that puts out 274 horsepower and 280 ft-lbs of torque. Mazda didn't stop with engine and also provided all-wheel-drive (standard Mazda6 was front drive only) a 6-speed gearbox and stiffer suspension.
This particular example looks to be in great shape inside/out and has a number of performance upgrades that should make it bridge the performance gap to the STi/Evo twins, but still look like it is driven by someone who doesn't own a collection of flat-brimmed hats and has no idea what in the world illest means.
Originally published as 10k: Adult STi/Evo: 2006 Mazda Mazdaspeed6 on DailyTurismo.com
Photo credits ebay.com