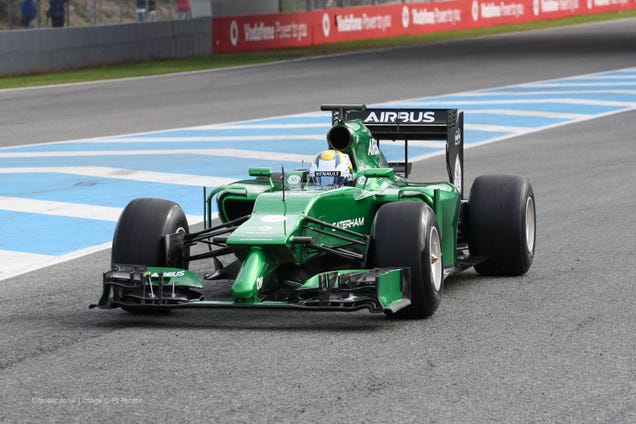 Caterham, the perennial back marker have released one of the most unique designs this year, and it only partially looks like genitals!
Public reaction is mixed, but I would like to point out that it is not quite as dongy as some of the other creations. Everyones favorite pit reporter Will Buxton pointed out it looks angry. Team owner Tony Fernandes had something to say about that.
Caterham looks angry. A nose like a shovel with a shillelagh strapped underneath.

— Will Buxton (@willbuxton) January 28, 2014
@willbuxton I'm angry at how much money we spend.

— Tony Fernandes (@tonyfernandes) January 28, 2014
@willbuxton Hahaha haha. Don't care how it looks as long as it's fast.

— Tony Fernandes (@tonyfernandes) January 28, 2014
Tony of course threatened earlier this week to pull out of F1 if his team continued to encounter trouble and cost caps were not put into place.
While visiting the teams headquarters he had this to say
"We've given you the best infrastructure, the best potential drivers, but it is now down to all of you to go and do it."

"If we're at the back I don't think I'm going to carry on. Nothing is set in stone, but after five years with no points there is a limit to one's patience, money and motivation so it's an important year."
Lets hope overtaking expert Kamui Kobayashi can help this struggling team to finally score points, and if not, at least help to bring some excitement to Formula 1, even if its fighting for P12.