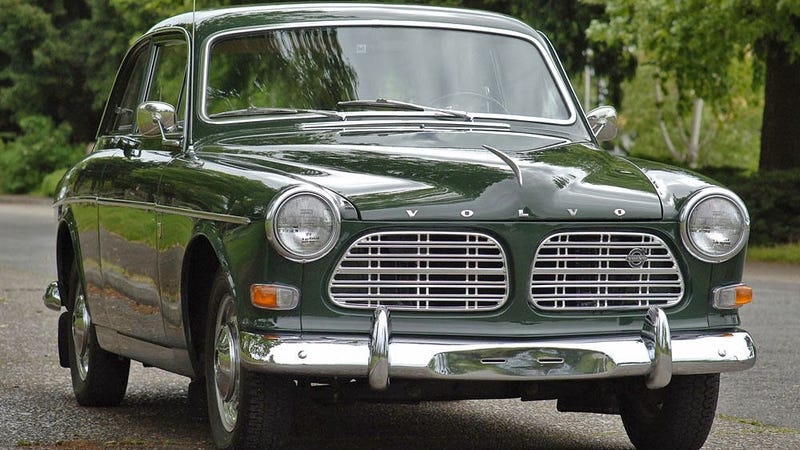 It may be Friday, but with so many cheap Swedish classics around, every day should be as Thorsday. Time to get the Scandinavian smorgasbord going with another classic Volvo 122S. We've posted a number of Amazon coupes on the internet over, and an Amazon was one of our first buyer/seller success stories.
But few have been as nice or clean a this one. Find this 1967 Volvo 122S Amazon currently bidding for $9,156 on ebay, with 3 days to go, located in Portland, OR.
I am keen to see where the bidding is when the gavel hits the block on this one, because it is equally as nice as the Light Green (Volvo code 91) 122S featured late last year sold for a staggering $36k before it was re-listed and sold for a still remarkable $18k. Most of the writers who make up the DT collective are card carrying members of the "pointy headed everything costs too much" club. We may shake our heads until we are blue claiming that Amazons are cheap, but the exchange of green for pink is the ultimate market indicator regardless of what we, Hagerty or some crazy bum on the corner says.
Under the hood of this Dark Green (Volvo color code 94) goddess is a 1.8 liter B18 overhead valve inline-4 that puts out 86 horsepower and 103 ft-lbs of torque. The tractor-like engine is a great fit for the 50's American car inspried Volvo exterior and you won't carve canyons or drag race between stop lights, but you will enjoy the pleasant aroma of nostalgia and smiles from everyone else on the road. You can cut people off, drive slow in the fast lane, cruise for miles with your blinkers on and everyone will just assume you are some old dude and cut you some slack.
The interior is just as nice as the exterior and no one will debate the two owner, low original mile, claim from the seller. Interestingly enough, the seller, Cascadia Classics, is the same outfit that sold the $36k/$18k Amazon coupe from late last year, perhaps they are keen to lead the charge in vintage Volvo price escalation. Can't blame them for trying to make money, but lets hope the Amazon market stays reasonable and doesn't do a Porsche 912 imitation...nobody wants that.
See a cooler old green car for less? tips@dailyturismo.com
Originally published as 10k: Thorsday Classic: 1967 Volvo 122S Amazon on Daily Turismo.