Wanna race with us next Thursday to kick off race weekend for the 24? Of course you do! Sign up after the jump! (EDIT: WE WILL BE RUNNING 2 LOBBIES. SEE THIS POST FOR MORE INFORMATION).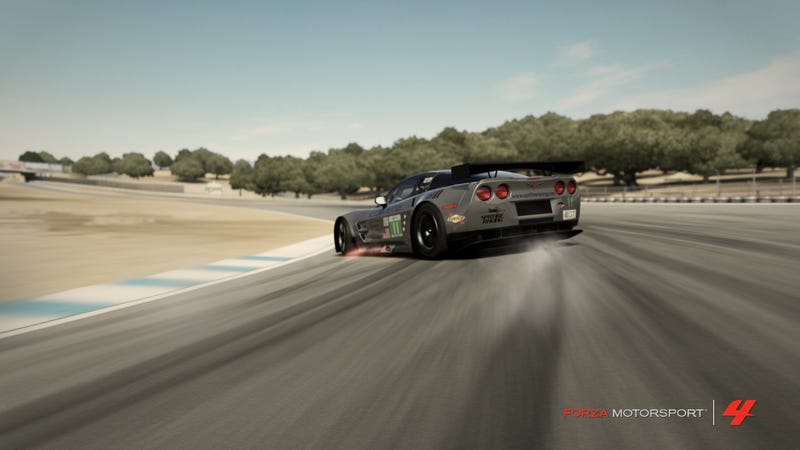 WHAT TO DO IN THIS POST: Post your gamertag below (so that I may message you later) and please vote for the time green flag drops, track layout, the class of cars we'll be using, and how long you want the race to last. You only get one vote per poll and you can't change your selection after you've voted so choose wisely. If you do not plan on participating or are fine with anything please refrain from voting.
As mentioned in my previous post the ultimate goal of this race is to to have fun so all assists will be allowed and any and all can race with us. Cars can be upgraded and custom tunes are allowed, but only to the max PI of the car's class (ie, the #045 911 GT3-RSR is an R3 class car and has a PI of 760, so its max PI is 800). I am willing to provide a car for any who wish to participate but don't have an appropriate car for the race.
If you lurkers out there want to race, please create a Kinja account and respond below or message me (mackleroy45) on Xbox Live to confirm your participation as I will be creating a private race and individually inviting all of you to the lobby.
Voting will end Tuesday at 11:59pm EST and I will post the results of the polls on Wednesday so you can make preparations for the race. After that time you can still sign up and participate if you post below or message me at least one hour before green flag (time TBD) on Thursday.
Unfortunately I have a prior engagement Thursday so if I host the race it will have to be no earlier than 9 or 10pm EST. If this is too late for you all please vote so that I may find another host to set this all up. Let me know in the comments if you can host, this post and my previous one should give you all the info you need to set up the lobby.
Car">">"</a> href="">"</a> <="" a="">">">" href="">"</a> href="">"</a> "="">">"</a> href="">"</a> <="" a="">">">" <="" a="">">">"</a> href="">"</a> <="" a="">">">" href="">"</a> href="">"</a> <="" a="">">">" href="">"</a> href="">"</a> "="">">"</a> href="">"</a> <="" a="">">">" "="">">"</a> href="">"</a> <="" a="">">">" href="">"</a> href="">"</a> "="">" href="" <="" a="">">">">" <="" a="">">" href="" <="" a="">">" href="" <="" a="">">">" <="" a="">">" href="" href="" "="">" <="" a="">">" href="" href="" "="">" <="" a="">">" href="" <="" a="">">">" href="" href="" href="" "="">" <="" a="">">" href="" <="" a="">">">" href="" href="" href="" "="">" "="">" "="">" href="" "="">" <="" a="">">" href="" href="" href="" "="">" "="">" <="" a="">">" href="" href="" "="">" <="" a="">">" href="" <="" a="">">">" href="" href="" href="" href="" href="" href="Car">">Car">">Car">">Car">">Car">">Car">">Car">">Car">">Car">">Car">">Car">">Car">">Car">">Car">">Car">">Car">">Car">">Car">">Car">">Car">">Car">">Car">">Car">">Car">">Car">">Car">">Car">">Car">">Car">">Car">">Car">">Car">">Car">">Car">">Car">">Car">">Car">">Car">">Car">">Car">">Car">">Car">">Car">">Car">">Car">">Car">">Car">">Car">">Car">">Car">">Car">">Car">">Car">">Car">">Car">">Car">">Car">">Car">">Car">">Car">">Car">">Car">">Car">">Car">">Car">">Car">">Car">">Car">">Car">">Car">">Car">">Car">http://polld... ">Car">">Car">">Car">">Car">">Car">">Car">">Car">">Car">">Car">">Car">">Car">">Car">">Car">">Car">">Car">">Car">">Car">">Car">">Car">">Car">">Car">">Car">">Car">">Car">http://polld...">">Car">">Car">">Car">">Car">">Car">">Car">">Car">">Car">">Car">">Car">">Car">">Car">">Car">">Car">">Car">">Car">">Car">">Car">">Car">">Car">">Car">">Car">">Car">">Car">http://polld... " href="Car">">Car">">Car">">Car">">Car">">Car">">Car">">Car">">Car">">Car">">Car">">Car">">Car">">Car">">Car">">Car">">Car">">Car">">Car">">Car">">Car">">Car">">Car">">Car">http://polld...">">Car">">Car">">Car">">Car">">Car">">Car">">Car">">Car">">Car">">Car">">Car">">Car">">Car">">Car">">Car">">Car">">Car">">Car">">Car">">Car">">Car">">Car">">Car">">Car">http://polld...">">Car">">Car">">Car">">Car">">Car">">Car">">Car">">Car">">Car">">Car">">Car">">Car">">Car">">Car">">Car">">Car">">Car">">Car">">Car">">Car">">Car">">Car">">Car">">Car">http://polld... Class (With Examples)Race">">"</a> href="">"</a> <="" a="">">">" href="">"</a> href="">"</a> "="">">"</a> href="">"</a> <="" a="">">">" <="" a="">">">"</a> href="">"</a> <="" a="">">">" href="">"</a> href="">"</a> <="" a="">">">" href="">"</a> href="">"</a> "="">">"</a> href="">"</a> <="" a="">">">" "="">">"</a> href="">"</a> <="" a="">">">">" href="">"</a> href="">"</a> "="">" href="" <="" a="">">">" <="" a="">">" href="" <="" a="">">" href="" <="" a="">">">" <="" a="">">" href="" href="" "="">" <="" a="">">" href="" href="" "="">" <="" a="">">" href="" <="" a="">">">" href="" href="" href="" "="">" <="" a="">">" href="" <="" a="">">">" href="" href="" href="" "="">" "="">" "="">" href="" "="">" <="" a="">">" href="" href="" href="" "="">" "="">" <="" a="">">" href="" href="" "="">" <="" a="">">" href="" <="" a="">">">" href="" href="" href="" href="" href="" href="Race">">Race">">Race">">Race">">Race">">Race">">Race">">Race">">Race">">Race">">Race">">Race">">Race">">Race">">Race">">Race">">Race">">Race">">Race">">Race">">Race">">Race">">Race">">Race">">Race">">Race">">Race">">Race">">Race">">Race">">Race">">Race">">Race">">Race">">Race">">Race">">Race">">Race">">Race">">Race">">Race">">Race">">Race">">Race">">Race">">Race">">Race">http://polldaddy.c...">">Race">">Race">">Race">">Race">">Race">">Race">">Race">">Race">">Race">">Race">">Race">">Race">">Race">">Race">">Race">">Race">">Race">">Race">">Race">">Race">">Race">">Race">">Race">...">">Race">">Race">">Race">">Race">">Race">">Race">">Race">">Race">">Race">">Race">">Race">">Race">">Race">">Race">">Race">">Race">">Race">">Race">">Race">">Race">">Race">">Race">">Race">...">">Race">">Race">">Race">">Race">">Race">">Race">">Race">">Race">">Race">">Race">">Race">">Race">">Race">">Race">">Race">">Race">">Race">">Race">">Race">">Race">">Race">">Race">">Race">... LengthTrack">">"</a> href="">"</a> <="" a="">">">" href="">"</a> href="">"</a> "="">">"</a> href="">"</a> <="" a="">">">" <="" a="">">">"</a> href="">"</a> <="" a="">">">" href="">"</a> href="">"</a> <="" a="">">">" href="">"</a> href="">"</a> "="">">"</a> href="">"</a> <="" a="">">">" "="">">"</a> href="">"</a> <="" a="">">">">" href="">"</a> href="">"</a> "="">" href="" <="" a="">">">" <="" a="">">" href="" <="" a="">">" href="" <="" a="">">">" <="" a="">">" href="" href="" "="">" <="" a="">">" href="" href="" "="">" <="" a="">">" href="" <="" a="">">">" href="" href="" href="" "="">" <="" a="">">" href="" <="" a="">">">" href="" href="" href="" "="">" "="">" "="">" href="" "="">" <="" a="">">" href="" href="" href="" "="">" "="">" <="" a="">">" href="" href="" "="">" <="" a="">">" href="" <="" a="">">">" href="" href="" href="" href="" href="" href="Track">">Track">">Track">">Track">">Track">">Track">">Track">">Track">">Track">">Track">">Track">">Track">">Track">">Track">">Track">">Track">">Track">">Track">">Track">">Track">">Track">">Track">">Track">">Track">">Track">">Track">">Track">">Track">">Track">">Track">">Track">">Track">">Track">">Track">">Track">">Track">">Track">">Track">">Track">">Track">">Track">">Track">">Track">">Track">">Track">">Track">">Tr...">">Track">">Track">">Track">">Track">">Track">">Track">">Track">">Track">">Track">">Track">">Track">">Track">">Track">">Track">">Track">">Track">">Track">">Track">">Track">">Track">">Track">">Track">">Track">http://...">">Track">">Track">">Track">">Track">">Track">">Track">">Track">">Track">">Track">">Track">">Track">">Track">">Track">">Track">">Track">">Track">">Track">">Track">">Track">">Track">">Track">">Track">">Track">http://...">">Track">">Track">">Track">">Track">">Track">">Track">">Track">">Track">">Track">">Track">">Track">">Track">">Track">">Track">">Track">">Track">">Track">">Track">">Track">">Track">">Track">">Track">">Track">http://... LayoutRace">">"</a> href="">"</a> <="" a="">">">" href="">"</a> href="">"</a> "="">">"</a> href="">"</a> <="" a="">">">" <="" a="">">">"</a> href="">"</a> <="" a="">">">" href="">"</a> href="">"</a> <="" a="">">">" href="">"</a> href="">"</a> "="">">"</a> href="">"</a> <="" a="">">">" "="">">"</a> href="">"</a> <="" a="">">">">" href="">"</a> href="">"</a> "="">" href="" <="" a="">">">" <="" a="">">" href="" <="" a="">">" href="" <="" a="">">">" <="" a="">">" href="" href="" "="">" <="" a="">">" href="" href="" "="">" <="" a="">">" href="" <="" a="">">">" href="" href="" href="" "="">" <="" a="">">" href="" <="" a="">">">" href="" href="" href="" "="">" "="">" "="">" href="" "="">" <="" a="">">" href="" href="" href="" "="">" "="">" <="" a="">">" href="" href="" "="">" <="" a="">">" href="" <="" a="">">">" href="" href="" href="" href="" href="" href="Race">">Race">">Race">">Race">">Race">">Race">">Race">">Race">">Race">">Race">">Race">">Race">">Race">">Race">">Race">">Race">">Race">">Race">">Race">">Race">">Race">">Race">">Race">">Race">">Race">">Race">">Race">">Race">">Race">">Race">">Race">">Race">">Race">">Race">">Race">">Race">">Race">">Race">">Race">">Race">">Race">">Race">">Race">">Race">">Race">">Race">">Race">http://polldaddy.c...">">Race">">Race">">Race">">Race">">Race">">Race">">Race">">Race">">Race">">Race">">Race">">Race">">Race">">Race">">Race">">Race">">Race">">Race">">Race">">Race">">Race">">Race">">Race">...">">Race">">Race">">Race">">Race">">Race">">Race">">Race">">Race">">Race">">Race">">Race">">Race">">Race">">Race">">Race">">Race">">Race">">Race">">Race">">Race">">Race">">Race">">Race">...">">Race">">Race">">Race">">Race">">Race">">Race">">Race">">Race">">Race">">Race">">Race">">Race">">Race">">Race">">Race">">Race">">Race">">Race">">Race">">Race">">Race">">Race">">Race">... Time (EST)