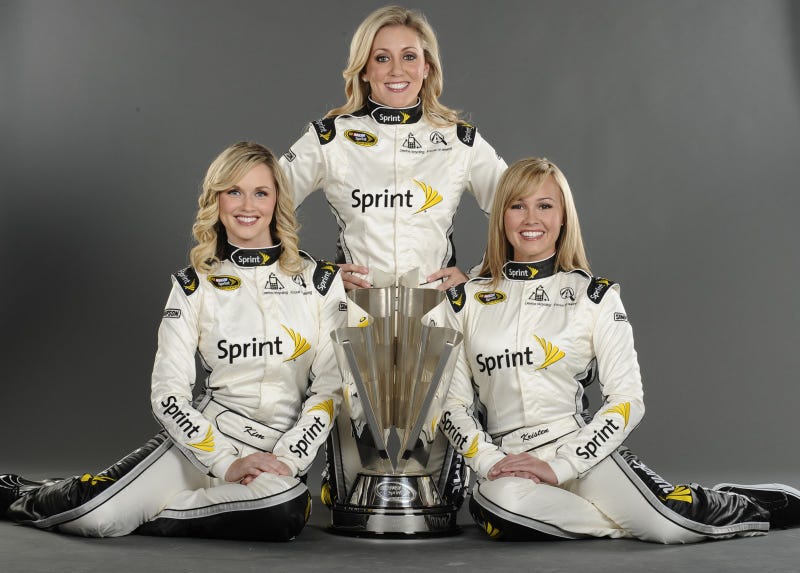 The 2013 NASCAR Sprint Cup has been eventful to say the least, but has it actually been exciting? Let's take a cursory look over the first 3 races of the 2013 Chase for The Sprint Cup:
The Geico 400 at Chicagoland Speedway
Matt Kenseth and Kyle Busch take 1|2 for Joe Gibbs Racing in rather routine fashion, the only thing separating them was a final stretch restart where Kenseth got the push from behind and Busch didn't. Jimme Johnson was awesome, as always but the green flag pitstops saw Johnson lose the lead on an error by the NASCAR spotter. Oh! Did I mention there was a 5 hour red flag? Yep, the race started up again around 10pm ET, which was actually very exciting because night time racing is awesome. Cole Whitt's car lit on fire, that was really neat and it filled the track with smoke as did Joey Logano's car which lost a cylinder and Jr.'s car which simply decided it was done with this cruel world. So how exciting was the race? Not bad honestly, the 5 hour rain delay probably dropped the rating a ton but post rain the race was actually extremely exciting. Excitement: 6.5/10
Sylvania 300 at The New Hampshire Motorspeedway
Well if you were looking for a different result sadly you were to be disappointed, Kenseth and Ky. Busch again took 1|2 for Joe Gibbs Racing with Biffle rounding up the podium. The race started innocuously enough, Kasey Kahne was running extremely fast and only took 17 laps to pass the first lap car. Sadly for him, he was one of the pit road casualties during the competition caution (a really dumb idea btw). Along with him, Regan Smith and Gordon had an accident, Jr.'s pit dropped a jack and Josh Wise had the pleasure of spinning out a lap before the caution was to happen. Juan Pablo Montoya continued his goodbye series by absolutely torching Jaime McMurray's car sending bits and pieces everywhere, Bobby Labonte, who this author didn't even realized still raced, spun out in spectacular Labonte fashion (seriously did Terry teach him that? It was graceful and stupid all at the same time) and Marty Truex led majority of the race. But Kasey Kahne's crash with less than 50 to go basically saw that Kenseth was to win the thing, as Busch used the restart to round out a respectable second place. Exciting race? Not at all, I almost fell asleep during this one. There wasn't even really good driving on the part of the Chasers, the best driving was probably Truex and McMurray (who came back from JPM's crash to challenge for 5th for a bit), the rest just bided their time and took over at exactly the right time. Smart driving, not exciting driving. Excitement: 3/10
AAA 400 at Dover International Speedway

Jimmie Johnson finally got a win in the 2013 Chase. It wasn't the easiest victory for him, but he does Dover like no one else so it was exactly surprising either. Jr. finished second to give Hendricks the 1|2 win (and almost the podium as Gordon finished 4th by a hair). Ky. Busch finished 5th and Kenseth finished 7th, though the final laps were pretty hard fought and either one of them could have challenged for the win had the cards fell differently. The race was Jr.'s to lose, he led at the 88th lap (in the 88 car in his 88th race nonetheless) but driving past the commitment line for a pit caused him to have to do a penalty lap and that was basically all she wrote for him. Johnson took the lead and there wasn't much left to say, Jr. definitely gave it a good run but he couldn't get past his (obviously) superior teammate. After the race Jr. famously said: "Finishing 2nd is no better than finishing 10th to me", well Dale, moral wise it might not be but in the points I bet you'll take that big bump. Exciting race? Yes, easily the best rest of the Chase thus far. Even as a Ky Busch fan, it was an exciting race. Excitement: 7.5
I know it's fun to hate Jimmie Johnson because he's the "New York Yankees" of NASCAR, but something has to be said about just how freaking good he is. The Sprint Cup arguably has the 43 best stock car racers in the world and Johnson outclasses all but maybe a small handful of them to such an overwhelming degree. I know the age old joke is that NASCAR drivers just turn left and mash the gas, while we know that to not be true, when you watch JJ48 on the track it really does look like he's playing a video game and having a cup of tea. He makes it look that easy.
So where do we stand thus far? Let's have more races like the 400 at the Monster Mile, and less like the one at New Hampshire. The Hollywood Casino 400 at Kansas Speedway is just getting underway and I'm optimistic for a sweet race. So for the time being at least, this author will say that the 2013 NASCAR Chase for the Sprint Cup is a B-|Fleeting Excitement and here's to hoping I get to raise that grade!
[UPDATE] -> First turn of the first lap of the Hollywood Casino 400, Danica decides to crash into the wall and causes Kyle Busch to pit and check his front splitter. ALREADY MORE EXCITING