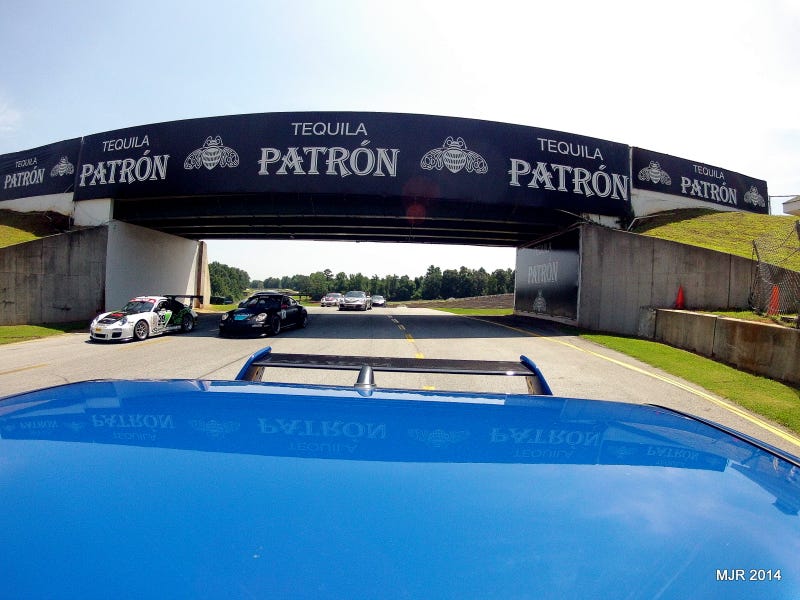 Last weekend I got to try something new. I was asked if I could drive pace car for the Vintage Drivers Club of America during their weekend at Road Atlanta. The extent of my experience at RA was one parade lap around the track in a Mini and watching several Petit Le Mans from trackside. Sprinkle in my 24 Hours of Lemons track time and, obviously, I was fully qualified.
To alleviate the fears of the organizers I got there early and was able to do a couple of laps without crashing. Always a good sign.
I was then introduced to the chief steward and he told me what would be happening over the radios and what his expectations would be. I needed to be listening for the callls, responding positively over the radio, keeping 45-50 mph, keeping them bunched up and i needed to come off after a single lap. Odds are there would only be pace laps and maybe the rare caution. I was also going to have the opportunity to pace Porsche Cayman based Stuttgart Cup races. Easy, right?
Actually, it was pretty easy. Sort of. Working the radios wasn't a big deal, but I later learned I was using terms that they didn't like. When told to head out I would respond that the pace car was rolling. Apparently, you don't want to say rolling unless you are upside down. Also, the only thing on the track that is red are the flags. Cars are crimson. Ok, lessons learned.
I did find it was a challenge to keep the run groups packed up. One group had around 50 cars in it and the last one was leaving the pits about the time I hit turn 7. Other races would see the guys a bit reluctant to line up 2x2. The Porsche guys liked to hang close to my rear bumper and I may have carried a little more speed for them once I knew they had all cleared pit road.
Beyond that I got to drive a number of laps of Road Atlanta with some pretty great hardware behind me. The sound was wonderful and it was hard not to just look in the mirrors.
One peculiarity of driving pace car is you have to stick to the center of the track and that means a mental adjustment for where apexes are. No big deal, but a bit odd. It was also the first time I've taken my Evo on a track. Needless to say, that was awesome. I was allowed a lap at the end of the day to "return my radios" and that was good fun.
One of the great things about the weekend was getting to meet and talk with some cool, passionate car folks. I was paired in the pace car with a gentleman who was a retired Porsche salesman. He knew about all there was to know about the last 30 years of Porsche. We talked cars, business and politics. Standard stuff you do when you are sitting in a car for several hours. When there was down time I was able to wander the paddock and talk with folks. I was a stanger, but they were all nice, especially when asked about their cars. Classic MGBs, Porsches, Mustangs, Elvas and a lovely Volvo were all there along with a selection of Formula V, Formula Ford and some spec cars. Really, a great assortment. Toss in the Cayman Stuttgart Cup and you get a good mix of on track action.
Was it thrilling to be in the pace car? Occasionally. Was it boring? Occasionally. Was it hot? Without question. Would I do it again? Without a doubt.
Thanks again to the VDCA and the Stuttgart Cup for letting me take part.
All photos by me via GoPro and my phones.