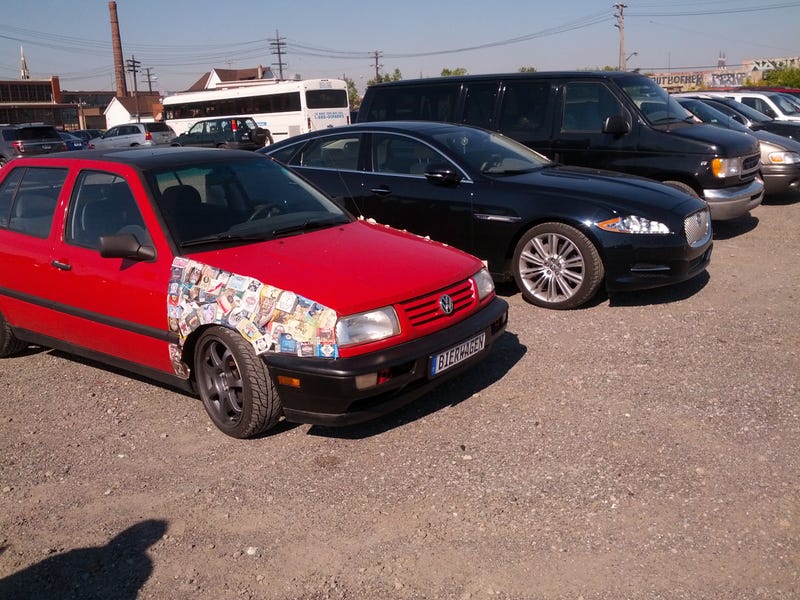 Well my fellow jalops, the little murderous crapcan is getting to be a bit much. I''ve decided that it's finally time to buy something made well after I was born and get something that's at most a year or so old. It is my resolution for 2014. I have a couple grand saved up and will have about 600$ a month for payments and insurance and still have money to put in the bank every month (usually about 2-400$ at the end of most normal months depending on how many things broke on my jetta/audi).
Here are my front runners so far
1) Ford Fiesta ST - I need not say any more about this car. Simply put, it is an absolute joy of a hatchback for under 25k and can consistently get into the 30s for mileage like my current used jetta but with double the power and more cargo space and MUCH better handling
2) Buick Regal GS - Not a new one but a 1 or 2 year old model with a manual. Truth be told, I think it has one of the best shifters out there for a daily driver. Just enough weight and throw that you won't miss but short and precise enough for good spirited driving. Plus it is a "luxury" sedan that can be had in the mid to high 20s with tons of features and a killer set of stock wheels so you can definitely be the envy of your parking lot for not a lot of money.
3) Mazda RX8-R3 - I will need a winter beater with this one, but seriously it is a beast of a RWD coupe/sedan. Plenty of high RPM power for track/autoX use combined with useable rear seats and a generous trunk mean I can stop by the store on my way back from beign competitive in my class at an autoX and have plenty of room for well over a week of groceries.
4) Mk6/7 GTI - The ultimate in "safe bet", there is nothing I will ask of a car that a GTI can't do. I don't own anything that needs to be towed and I am a bachelor. I can;t think of a single thing that I would ask of a car that the GTI can;t deliver on besides doing a drift competition.
5) Mercedes C300 - A 2011 manual transmission equipped model is my preference here. With the manual, you get a stripped out luxury sedan with very few things to go wrong but a stout 210+ hp V6 and a 6-speed manual powering the rear tires. Well built and handsome, certainly it must be considered for someone shopping for a car in the 25k price range.
6) BMW 320i - The jalop special will be on my list. Certainly the most expensive, but at the same time it might be worth it. There will be an aftermarket for more power and the warranty and service provided by BMW might not be a bad investment. If I avoid excessive electronics I should have a nice, solid, reliable sedan for many thousands of happy miles.
7) Infiniti G35/37 - A dark horse, but occasionally I find a low mileage example for cheap. I'm not a fan of the Z car, but I love the look of the infiniti. From what I;ve heard, with snow tires, they do just fine in the winter. Doubly so if you get the manual and can force the gear you want instead of wait for the transmission and traction control to come to an agreement. Definitely a fun choice, and one I would regret leaving out in case a good one came along. A nice balanced sedan/coupe.
So fellow jalops, out of this list which one would you pick? And before you can mention it - the FR-S is a car I hate and I need a car with a decent trunk and four seats so the miata is out. That is non-negotiable. You can NOT convince me that either of those cars is the car I need as I have driven both and can confirm - for a car I have to wake up to and drive no matter what, 24/7? I would not like it. Suggesting either of those will get your comment dismissed.