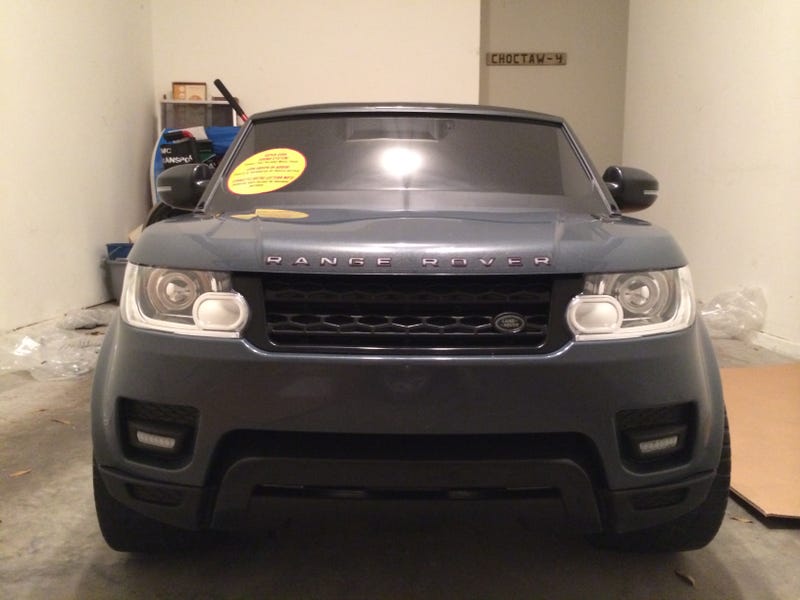 Pow-Pow-Power Wheels
I read Patrick's review of the full size and thought I would write about the "Avigo Tuned" 2014 RRS.
I've always liked the Range Rover Sport. Growing up I found the P38A Range Rover a handsome, if oddly proportioned, truck. The problem I always had with it and subsequent full-fat Range Rovers was that the greenhouse felt too large in relation to the rest of the car; it was too top heavy design-wise. The Range Stormer concept and Range Rover Sport that followed were much better looking takes on the classic profile in my eyes. And six years after they debuted...I bought a two year old S/C'd one (the 380ish hp one) for less than 2/3rd what the first owner paid. Two years later I replaced it with a 510hp 2012. Now the 2014 is out, looking better, and despite what the spec sheet says, appears to be MUCH smaller than the 2013...
Exterior
The 2014 RRS is good looking with a sleek, deeply raked windshield. They've incorporated a lot of design elements from the Evoque and the result is a more refined, while still imposing appearance. But I don't remember the press photos only showing two doors. And the lights don't appear work, which will be a problem when trying to get a state inspection sticker. And the hood, brake duct, and side vents don't appear to be functional. All that being said, it's pretty.
Interior
The original Range Rover Sport interior was probably the biggest letdown in terms of quality materials and design. The dash was that soft touch rubber/plastic you find in BMWs and MB entry level sedans. The NAV/stereo was laughably outdated. Nothing felt like it was supposed to in a SUV of that price range. The face lifted 2010 model did a LOT to remedy this. With the exception of buttons, nearly everything you see and touch is leather or metal. The dashboard, the door rests, etc were now covered in leather. They also got rid of the "button-bloat." A 2010+ Range Rover Sport had half as many buttons and a much improved NAV/stereo system. They have been making constant improvements year over year since then as well...but this 2014 seems like a step backwards.
First off, the dials are stuck at 2500rpm and 57mph. It also seems to think that it's always 72 degrees at 2:30PM on 10/28/2013. The odometer is broken from the factory, and none of the steering wheel controls appear to function.

Push button start is also standard. But the NAV system has experienced a major downgrade. I don't know if it just didn't have the newest map update but it always thought it was on "Unnamed Road." The bluetooth pairing is not working either. I also call into question the ergonomics of placing the horn on the dashboard.
The seats are FIRM and are minimally bolstered, which isn't that big a deal due to handling (which we'll discuss in a minute). It does come with a cupholder.
Gearbox
Everyone complaining about how antiquated modern single-clutch automatated manuals are should experience the 2014 RRS. You only get two gears, forward and reverse.
Acceleration
Land Rover has apparently dumped their famous and brand-defining 4WD for a RWD system with a electric motor per wheel. The advantage appears to be instantaneous torque and, with enough traction, wheelie levels of acceleration. The disadvantage is everything else.
Brakes
Nope
Handling
Range Rovers are known for their Terrain Response system. In previous years this included a module in the center console, behind the transmission selector, where you would select from three ride heights, 5-6 traction programs, and whether you wanted high or low range transfer case. They seem to have ditched all of this in the 2014. There's a blank space behind the climate controls so maybe it's just an option this example didn't come with. Speaking of which, I hate blank switches/areas. I would say it handles "like a go kart" but it's more "toy-like" which is appropriate due to the smiles it elicits.
Ride
The old RRS was much firmer than the full RR but it always felt like you were floating on a firm cloud. The 2014 feels like the axles are bolted to the chassis, not unlike a first-gen BMW X3. For shame Range Rover. It doesn't help that the tires have the stiffest sidewalls of any tire I've ever seen.
Audio
"SUPER-COOL SOUND SYSTEM!" iPod integration is standard.
Toys
It is one
Value
At $299 it's a little pricey but I think most would say the reaction from the new owner is priceless.
(Full disclosure: My Sister purchased this Avigo Range Rover Sport for her friend's kid and didn't want it to end up being as well built as a British-Leyland Rover so she asked me to assemble it. I built it in her spare garage over the course of an hour or so. I exceed the 130lb weight limit so driving impressions will be limited to what I could get out of the 3 year old kid driving it.)
The Cycle Continues
I vividly remember a Christmas morning in the early 80's. I ran down the long hall from my room to the living room to find a red C4 Corvette parked under the tree. It ran for less than an hour on a charge, took half a day to recharge (some things apparently don't change despite 30 years of battery tech). It and the Fisher-Price Cozy Coupe were two major automotive influences in my development. If you were to dig deep enough into my parents photo albums, you would find pictures of me sound asleep in both. I apparently refused to go to bed when there was a new car to be driven and my parents would wait until I passed out to pick me up and carry me to something softer than an ABS plastic seat. 30 years after that C4 Power Wheel and I don't have kids myself, but I found myself doing what my dad did late one night, all those years ago.
14-17 hr charge and about an hour of use? Sounds like a Nissan Leaf (Ba-Dum-Tish).
I can't remember exactly how long that C4 Vette lasted but I had two siblings to push when the battery ran out so it felt like forever.
Handbuilt Quality
...and yes, "So You Want a Supercar - Part 3" is still coming. Putting the finishing touches on.
Merry Christmas Jalopnik