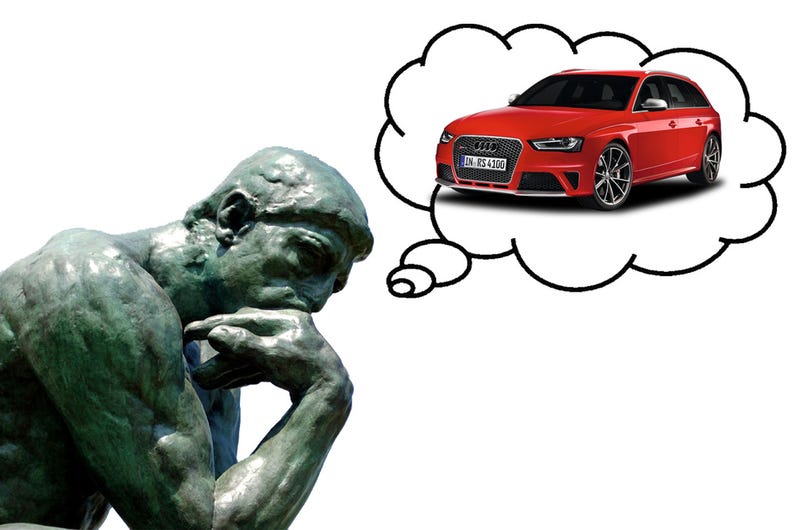 (Welcome to "Thinking Too Deeply About Cars." This is a column where I over analyze my thoughts about the cars I have owned and possibly get a little too sentimental. I encourage you to do the same or call me a total nut-job in the comments).
I have this problem where no matter how nice of a car I am driving I always want it to have something more. This all started with my first car, a 91' Chevy Lumina Coupe. It was a fine first car for a 17yr old, cheap to buy (I got it from my uncle for $2000 it only had 28k miles), cheap to fix, enough power for safe highway merging but not too much to get a novice driver into trouble, and pretty comfortable for chauffeuring friends around (two rows of bench seats, yay 90's GM!).
Despite all these fine features (I even had a kickin' stereo!) it wasn't enough. A college friend who seemed to go through cars faster than Ramen noodles (seriously, he owned 6 different cars within 2 years ) ended up with a 240sx fastback 5-speed and thought it would be a good idea to teach me to drive stick. After some rough launches and a few stalls, I got the hang of it and was totally addicted. But my Chevy was an automatic (column shifted) and I had no money to get a different car. So what did I do? I did what any one of year college educated 19 yr old would do, I improvised! I wanted the sensation of shifting gears so badly I ended up taking a used plastic Coke bottle and jamming it in between the front bench seats. For two years I kicked the floor with my left foot and rolled through the gears in my Coke "shifter." And then my opportunity came….
During my senior year in college, my grandfather passed and left me a little money. I had 10 grand to get a fun car with 3 pedals. I already told the story about how State Farm crushed my dreams of a Camaro SS, so my focus shifted to the booming import scene of the early 2000's and found a great '95 Honda Prelude Si. I loved that Prelude...that was until I started reading all those mags that convinced you through brainwashing that you MUST MODIFY YOUR CAR. I just could not have an un-modified Honda in 2002...it was against the gear-head rules at the time! I began to add bits here and there: intake, headers, exhaust, Altezza tail-lights (don't judge me everyone was doing it then), and suspension. Though If I had known then what I know now I would have passed on the coilovers, sure the Honda handled like it was on rails but also bucked like wild bronco over anything that resembled uneven pavement. As enjoyable as the Honda was, I started to long for something more European (damn brainwashing car mags again); I wanted a hatchback for more space and something a bit more fun and quirky.