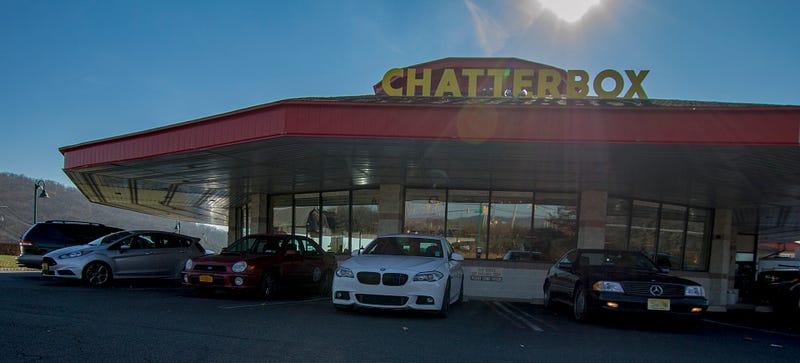 To those of you wondering about what's been going with the secret Oppo meetup that occurred today, here's the full story, with the emails behind organizing a surprise:
One of our good Oppos is moving out of NJ down to Tennessee, and I know it's short notice, but who can join for a day meeting up, and doing a cruise?

I can secure us a meeting place where we're welcome to all park together and hang out for a reasonable amount of time, but I need to know who can pull this off!

MountainCommand, his name is Mike, is the Opponaut, he organized the Oppo Meetup a year ago at High Point. After finding out how close he is to me, and then facepalming at how long that took, we went to the orange county fair and to the Lehigh Valley C&C together. There's a local C&C event I'm going to try and get him to come to this weekend as well if he's not too busy.

He leaves the state on the 25th, so we're going to need to act fast. I can make either November 22 or 23 work. Weekends are the most important, because it's the only way I can ensure the most people will be able to make this happen.

Where will we meet? Yet to be determined, but my initial Go-to spot is The Chatterbox Drive-In Diner. It's in Augusta NJ off Route 15. Very easy to get to from Rt 80 in NJ. The sooner I know who can definitely make it, and who's a very strong maybe, the sooner I can square things away. I need more than "I might be able to, I'll get back to you." If you can definitely do it, let me know.

Timing is flexible, but I'm looking to keep it within business hours. I know the owner very well, but I need a rough headcount so that things work out well. We can certainly go for a cruise around afterwards. I can talk to a couple people I know locally to see if we can stop at a tuning shop just to browse around and talk for a while if you're interested. Again, I need to know this in advance so I can get in touch with everyone. These people are mostly local to their shops and I know them well enough to ask on fairly short notice.

The more the merrier. I'm going to get in touch with a few local friends and see if they want to come out. Unfortunately, there's no local C&C event that weekend to start the day off, but we can all work this out. Also, if you feel the urge to give him a gift, just keep in mind he is packing, and will be moving down to Tennessee, so keep it physically small.

Finally, for the love of god though, if you have something to say, please reply to just me so I can keep this organized. Try to minimize the reply all garbage so that we can stay organized. Now that I have your emails, expect updates from me about how has confirmed they're going, and the exact day/time and location. I will provide google maps of the location, along with landmarks that are close so that we don't get lost.
Once I had people starting to tell me they could make the weekend, I solidified the plans, and sent them out:
Here's the whole 9 yards, so please read carefully. I've emphasized the important bits, but please don't skim this, you'll need to know all of this info!

Mike (MountainCommand) is moving away to Tennessee, and we're going to give him a proper sendoff! He organized the Hawk's Nest Cruise a year ago today, so we're going to do something great for him before he leaves.

This coming weekend, November 22 and November 23, we're going to put together a couple days of car stuff. Counting myself and Mike,there are 19 total people that can potentially make one or both days, and 4 more than haven't responded. If I still haven't heard back from you, you will be shamed!

The following Oppos have confirmed that they can make it:

Dr Benjamin Rolland

Brian Silvestro

Aaron Brown

Stevo777

RicoRich

TheJWT

delani917

The following Oppos have given me a maybe:

Thebloody resident Saffer

DocWalt

OffroadKarter

Doug DeMuro

JBH

505Turbeaux

Nibbles

Agrajag

Decay

I have still gotten no response from the following shameless users:

ihm96

ScaryMageenis drives a Zoid

boxer_4

FrederickLawOlmsteez

If you're going to come, you need to tell me before Thursday! If you're able to get in touch with these people directly, do so!

So here are the important details, because I want to maximize the people for both days.

We're going to do a full weekend event if people are up for it, because I want to maximize both the amount of people and things that can be done. I understand everyone wants to do certain things, but Mike is packing and busy. I'm not making him haul ass out over an hour to places while he's trying to just take it easy for the few days he has left.

November 22: Lunch gathering and afternoon cruise!

We're going to meet for lunch at The Chatterbox Drive In Diner. We'll be minutes away from his house, so I'd like to say show up by 12 Noon. I know the owner, we'll get parking somewhere, and we'll invite Mike to show up closer to 1PM, so that we're all around and ready and waiting. This is a lunch meet specifically so that we do not put a huge table into the dining area in the middle of the dinner rush for the restaurant. We're going to be having a good time, and hanging out, but we want to have the least impact on other people just going about their day. Food is not very expensive, everyone will be paying their own bill, so we will manage separate checks, and if you kept track of your orders, I'm sure it would be very helpful to the staff (which many of them recognize me). I don't want to go out for dinner sometime and have to get an earful over this, nor do I want other diners to complain about us.

After having lunch, we'll be cruising out through Route 23 and then looping back at the end of the cruise so you all can enjoy the rest of your day. The park will not be open late, so we can't be screwing around all day, but we should have an oppotunity to all sit down and chat with each other over lunch for an hour or two. The driving loop will start directly by the Chatterbox and head directly out to Route 23, where we'll cruise down 23. Along this route are a couple scenic places where we can pull over for pictures if you guys want to, we can discuss that before leaving. Along the route is one of the Weird NJ attractions, if you're into that. It will be along the side of the road we'll be traveling initially. There is a fairly wide shoulder, but if there's a lot of traffic, don't expect us all to pull over. I'll work out the exact turn by turn cruise during the week. Gas in the area is around $3.19/gal for 93, so it's not bad at all.

We'll be meeting up pretty early in the morning. I know some of you said you could do both days, others said you could only do one of the two days. This is where everyone gets their fill.

Located in Yorktown, NY this Cars and Coffee event happens all year round. Having a few of us show up early enough will be pretty nice for them as a local event, but also for anyone who can't make the lunch meetup. It's an 8AM to 10AM meet, and is right by a Dunkin Donuts, so you wont be starving the whole time, or forced to endure the cold. For the drive back, any NJ oppos can feel free to cruise with me. I was going to take a more scenic route home, following Route 202 instead of the highway, to look for photo opportunities along the way. For anyone who's unsure, I haven't been to this Cars and Coffee event either! Step outside your comfort zones. Some of you have, so any tips would be great on where to park, and when to show up.

After the cruise back, you're free to go about your day, because that's what I'll be doing! We can hang out for a while, but I do have other plans in later in the afternoon.

What do I need from you all?

1) Send me another email confirming you're going to come, and include what you're coming to!

2) If you have a time constraint for Saturdays lunch meet and you can cruise but not make the lunch, I need to know before Friday. If I don't know you're running late or I don't know you're only doing the cruise, if we leave without you, it's not our fault!

3) You're to all be on your best behavior, please and thank you at the diner for everything, do not forget to tip, we'll be making both Mike's day happy as well as whoever the waiter/waitress is!

4) What car are you bringing? As of right now, I think the SL will do both days, but I'm not sure. I may take the Neon, but it's not looking like the Magnum will be finished in time.

So with all of that, I need you all to read this carefully, and reply to me (NOT REPLY ALL, SAUSAGES) about what you'll be able to make.

Last, but certainly not least, this is not weather permitting. Bad weather will certainly change whether we cruise or how far, but Mike isn't going to be pushing his moving day back just because of weather.

Thanks for your cooperation, and lets all make this happen! Any questions, send them my way, and I'll get you an answer!
So with all of that squared away, we had a meetup of real people from the internet.
Thank you endlessly to the people who were able to make it!
Aaron Brown, Brian Silvestro, TheJWT, RicoRich, and Stevo777 for not only spending the day together, but also traveling as far as you all did to eat lunch, talk cars, and give Mike a great day to remember! For anyone wondering, there was little planning with MountainCommand, other than telling him he should keep himself free this weekend if possible, and then texting him Saturday morning about what time to meet for lunch. Little did he know there was more than just me waiting for him.
The cars in attendance were: Honda Prelude, Mercedes SL600 Sport, Subaru WRX, Ford Fiesta ST, BMW 550i and Mercedes C300.
And shortly after arriving at High Point, we met up with a Jalopnik reader and his very good looking Volvo TurboBrick 960R Wagon (I hope my memory is correct on that). Not only did he fit right in, but he joined for a group photo. His name is Peter, and he is one of us in spirit. Thanks for taking the group pictures for us!
From left to right: Brian Silvestro, Aaron Brown, JGrabowMST, MountainCommand, RicoRich, Stevo777 and TheJWT.
Everyone with their rides (sorry JWT, next time you'll have one!).
So if you're wondering what goes into organizing an Oppo Meetup, that's a very vague glimpse at what it takes to get a group of people that are mostly complete strangers to actually meet up together and have a good time.
Mike said he likely wont be able to make it to the Cars & Coffee because of how busy he is with packing and taking care of his dogs and dealing with their temporary living situation before hitting the road, but to the Oppos who are heading to that, we'll just have to be sure to get him enough pictures to see later.
And a message from Mike to everyone who was able to make it out: