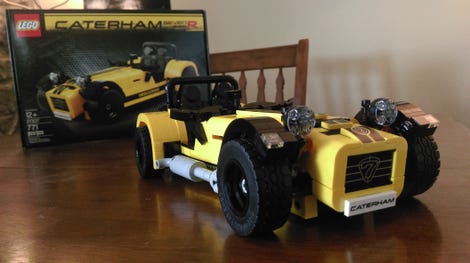 ...a Lego Caterham that is, but it's as awesome as I anticipated! While the production set doesn't keep some of the details that made the original fan-created idea so great, it's still 100% worth it. I'd highly recommend picking one up if you're a fan of Lotus/Caterham/British cars/cars in general to let Lego know that it's a good idea for them to keep creating sets like these.
If you're wondering, there are not many functional parts on here, no steering, suspension, moving engine internals, etc. like in some of the more expensive Lego cars, but the 620R does sure look pretty - so at least we know that Lego is committed to giving us the full British sports car experience with only a few functioning parts but lots of character and good looks.
Oh, and she's got three pedals.
I'm going to give you more pictures because i really like this. If you clicked because you wanted to see a real Caterham Seven, just skip to the end and I'll put one there for you all non-Lego-loving, boring people.
And here's a real one, obviously not me photo, in case this is what you expected. Seriously, go pick up some Legos today and rekindle that spirit or if you have a kid buy them some too and get them into cars!