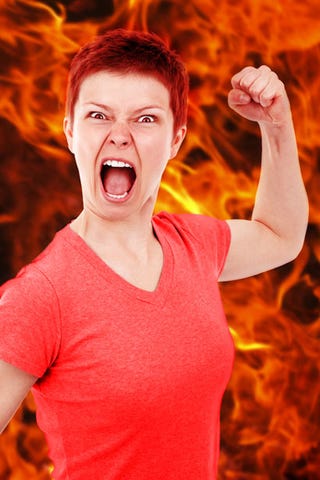 I encounter disgruntled and angry consumers all the time who have been ripped off by businesses big and small and are at their wit's end. Often, they have wasted time unsuccessfully complaining - using methods they read about on the internet. Here are the top five complaint methods which will most likely do nothing but waste your time.
1. Threatening to go to the media. "If BigCorp doesn't take care of me soon, I am going to call the local TV station!" Or newspaper, or radio station. People make this threat and wait for things to happen - which never do. I have news for you – media outlets get calls like this all day long and they wish they didn't. What is happening to you is not news. Can you imagine if the local news led with the headline, "Local Man Buys Defective Car. Dealer Refuses to Make Good!" And this is not just supposition on my part. I know people in the media and I have successfully pitched them stories before. I have also been consulted on air on newsworthy consumer stories and trust me, they were all more compelling than the problem you are having with your car. And this explains why almost no one in business cares when they hear this threat.
2. Writing/Emailing the CEO. I've heard from clients who wrote to the CEO (or other executive), thinking if ONLY he/she (thanks GM, now I have to do that) knew about the problem they were having, things would get straightened out forthwith. Do you really think the CEO opens and reads his/her own mail? And email – I don't know about you but I get bombarded by it all day long since my email (lehto@kennon.com) is all over the internet. If I gave in to every email demand I saw, my desk would be elbow deep in Viagra and I'd be working at home with Google for $8,000 a week instead of doing this. I suspect the CEO of BigCorp has a "DELETE" key on his/her keyboard just like the rest of us. And no, it will not help if you threaten to "go to the media" in the letter/email to the CEO.
3. Complaining to the Manufacturer (not the CEO, but the "helpline" in the back of the Owner's Manual). People tell me they have called the manufacturer and that a "File" has been opened for them or a "Case Number" has been assigned to them. This is pointless and will actually hurt you. 99% of the time, they will open a file and talk to you when you call. And that is it. I have heard from people who said they had several files "open" because a new one was opened for each call. They will waste your time and hope that you will eventually get bored or go away. Or, that you will waste enough time to run out the statute of limitations on whatever claim you might have had. On top of that, they may record everything you tell them. Later, when you file suit, transcripts or notes of these calls will appear and be used against you. Remember when you called and told the operator that the dealership was "helpful"? You might not have even said it quite like that but that's what the notes say.
4. Calling the Better Business Bureau. In most instances the BBB does nothing. It takes your complaint, assigns it a file or case number (see above) and passes it to the business. The business may or may not respond to it. If they do, the BBB may pass the answer back to you. The BBB is a private organization. It is not run by the government and does not have any legal authority to force any business to do anything. If you find this odd, ask yourself how they fund their operations? They get donations from businesses. That's not you. That's the other guy.