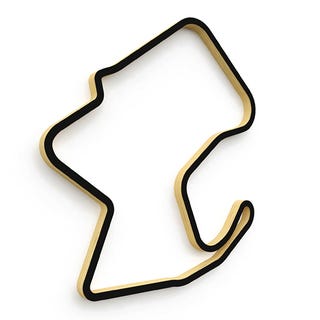 Well, I have been searching and searching for a job this summer and have not found one.I could go to work with my father as he is a carpenter, but I have been doing that for a while, and it is hard to fit into a resume. So here is my proposal. Help me out.
So, as the picture suggests, I have considered making a track out of wood. I have found good pictures, and both laguna seca and Road America seem like good tracks to work with. I am planning to actually bend wood here; 8 foot long in a jig.
Right now, I have minimal tools. I need to buy clamps, jig saw, and the other things needed. I have found out how to make a steamer with a wallpaper steamer and a pvc pipe, and that is what I plan to do.
So, here is where you come in. I can really only sell on craigslist, as it would be hard to ship, and I don't know how ebay works for sellers. I need a price point, and for reference, the price for the picture above is 219 dollars for 3' tall. Also, I was wondering depth. I was wondering if keeping it wall art size as in an inch or two thick would sell better than a five inch thick shelf sort of thing.
I am just trying to get this all figured out before I drop 250 dollars for a setup and find out that I cannot sell anything. Thanks for all the opinions.