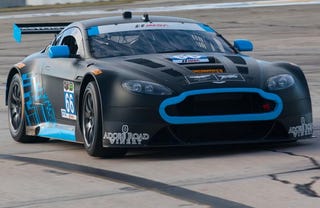 One out of 4 classes had their regulations set in the year 2013, and it was the pro-am GTD class in TUSC. It can be summed up by ALMS GTC driver Mike Hedlund rather succinctly:
The regulations are identical to Rolex GT with the exception being roll cages and the carbon chassis (McLaren).
Makes me wonder how it took 15 months for the regulations to come out. Still no word on any prototype regulations, and the pre-season Roar Before the 24 test starts this weekend.
Highlights for the GTD class regulations:
No driver aids (ABS, TC, SC)
Allowance of FIA roll cages. In previous years, Grand-Am mandated the use of a thicker roll cage in the name of safety. For some reason FIA cages weren't safe enough, in the eyes of the series. All it seemed to do was raise the center of gravity and cause the manufacturers to spend more money to develop a car.
Cars must run the single element Crawford rear wing. It looks hilarious on most cars. Take the Nissan GT-R for example:
Compare it to the GT3-spec wing:
Minimum weight is 1215 kg, or 2673 lbs. Maximum engine displacement for naturally aspirated engines is 8.5L, and the max for turbos is 4.0L.
This weekend is going to be very important for the series, as the Nissan-powered Oak and Pickett P2 cars will be in Daytona and the series will hopefully be able to better balance the P2s and DPs. As it stands, the DPs are three seconds a lap faster around the 3.56 mile roval.