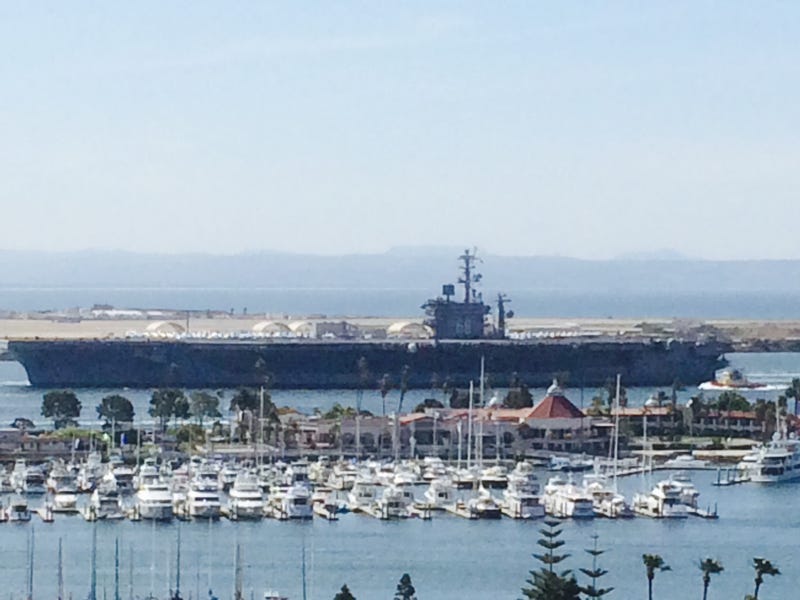 The Nimitz here has always been one of my favorite navy ships, primarily because I'm a big fan of her namesake. My father-n-law, who served in Navy during WWII, has a great story from back in the day. He was out on a "afternoon date" with a girl and they decided to extend things and do dinner as well. She was cold, so she asked him to swing her by her "Uncle Chester's house" to pick up a sweater. My pops-in-law, an Ensign in his Navy uniform, nearly fainted when his date introduced him to her Uncle, none other than Fleet Admiral Chester Nimitz himself!
Anywho, "Old Salt" is visiting San Diego, sort of a homecoming as she was once home-ported here, from Naval Station Everett in Washington. The Nimitz is the Lead Ship of its class that includes 10 sister ships, including the Theodore Roosevelt and Reagan subclasses. These carriers are built for a 50-year service life and are going to be replaced by the upcoming Gerald Ford-class carriers starting in 2025. Some wiki deets:
Length: 1092 ft (332.8m), Beam: 252 ft (!)
Complement: 3200 sailors + 2480 air wing
Motto: Teamwork, a Tradition
Here's a neat shot of the Pasha Hawaii's Jean Anne going out as the Nimitz rolls in ... with a P-3 Orion passing above for the perfect "Fuck yeah!" factor.