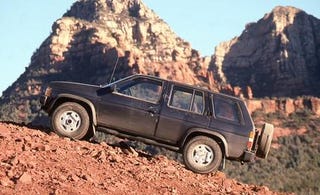 A local BHPH lot has a 1991 Pathfinder in seriously clean shape. Their website sucks and its the only thing on the lot without a price in the window.
I'm afraid to ask. Everything else is "Guaranteed 100% Financing" and 2x market value. Normally I'd forget about it. This isn't a normal Pathy.
This one lets you select from 5 different gears! It has Manuel!
Why would I be conflicted? Other than the BHPH lot?
Well.. I had this Xterra once, lifted on 35s. With a Manuel. Once. And if I was smart enough to keep full coverage on it..
I don't want another SUV but that X was so good to me.
Sonofa!