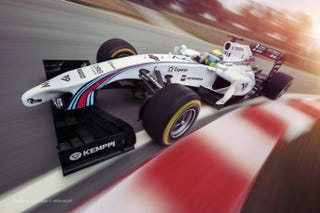 I've seen a lot of misinformation and a lot of things misunderstood. I've followed the preseason testing very closely. While I do not know everything I feel like I've got a good grasp on the outlook as we head in to the first race of the season.
Q: Are the cars slower this year?
A: Yes, but not by much. The fastest lap in qualifying at Bahrain last year was in the low 1:32s. Mercedes and Williams both managed to hit laps in the low 1:33s and Hamilton was on a lap that may have made the 32's but backed off at the very end of the last day of testing. Keep in mind the base weight of the cars this year is much higher than last year. The difference in speed can easily be attributed to weight gain.
Q: But what about race pace and their limited fuel capacity?
A: There were a number of teams doing race simulations in Bahrain. Their lap times averaged in the 1:41-1:42 range. That is 10 seconds a lap slower on average than Mercedes and Williams, but these are also averages from Force India and Ferrari who didn't break 1:35 in testing. In 2013 the first laps of the race were about 8-10 seconds a lap slower on full tanks. I do not know how quick the cars will be at the end of the race, but on full tanks the pace seems relative.
Q: How bad is it for the Renault powered teams?
A: Grosjean is quoted as saying as of right now even if Lotus goes slow they still won't be able to finish the race in Australia. Also Red Bull has asked Toro Rosso for help with their brake by wire system since they can only fix so many problems at once. Kobayashi has stated the Renault powered cars are 20-30kph slower in a straight line (aka down on power). Renault asked for a delay in the engine performance homologation. It is time to push the panic button if you're a fan of a Renault powered team.
Q: Can Renault do anything about it?
A: Yes and no. They can update their engine based on reliability and cost savings, but not for the purpose of improving performance.
Q: Are Mercedes and Williams really that fast?
A: Yes they very likely are. This year more than any other teams couldn't afford to sandbag the pre-season testing. The pace they showed was genuine. Not only that but they both demonstrated significant reliability. Mercedes engines have 4 teams. Renault and Ferrari have 7. Mercedes covered almost as many miles ans Renault and Ferrari combined.
Q: Will a team score points just by finishing?
A: Maybe. They have to cover at least 90% of the race distance in order to be classified, but expect some reliability improvements before next week's race. Still we are in for a season where you won't be able to look at a driver out in the lead and assume he's going to win, because in order to finish first first you must finish the race.
Q: How much energy is coming from the "KERS" system.
A: According to Grosjean 10 seconds per lap. If they run on half power he claims they'll lose 4-5 seconds a lap.

Q: Do teams really have a limited amount of fuel to finish the race?
A: Yes they have ~130L to finish the entire race distance. There are concerns that this will cause drivers to save fuel over the entire race rather than racing the cars around them. That is a distinct possibility. There are drivers who say that isn't the case and based on pre-season testing it didn't appear anyone had problems completing the race, but we also don't know if drivers were consistently lifting at the end of the straight or short shifting etc. This is a question that can't really be answered until the teams are actually out there fighting each other on track.
Other bits of information. Don't forget all of the drivers now have their own number that they each personally chose. Vettel is running #1 as reigning world champion. I believe he'll be running #4 next year (I'm assuming Red Bull doesn't have a chance at this point)
Each engine consists of 5 or 6 main parts. The rules and penalties that pertain to engine changes are broken down to the specific parts. Even if Renault sorts out their problems, chances are their teams will be suffering from grid penalties at the end of the year due to problems at the beginning of the year. For more details read this.
http://www.formula1.com/inside_f1/rule…

Any other questions you have I'll answer them if I can.