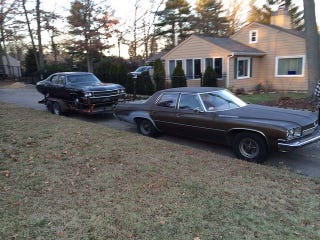 Why I don't need a truck anymore, or "Land Yacht AHOY"
(I know a lot of you have seen this before, but it came up like this in another discussion so I thought it would be fun as it's own post)
Works just fine! The whole set on Flickr, including why the quarters are primed at the moment - I've been rebuilding the rusty spots. Still need to tackle the rust under the rear window lower corners and trunk floor but the hardest parts are done. I've had this car since 1990. My grandparents bought it new in '73.
http://www.flickr.com/photos/6509315…
edit - forget to add. This has a specific fit class 3 hitch on the back, bolted to the frame rails way up toward the axles, just like any modern truck hitch. Not sure it's a "factory tow package" but the hitch is definitely specifically fit to this frame and not 'universal'.