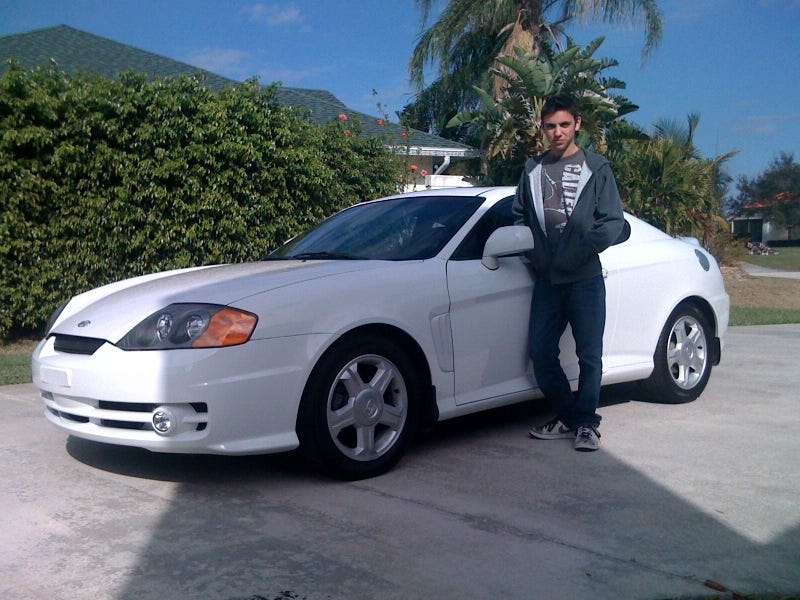 The modern first car. A true challenge. You care about safety and cost, while your kid cares about looking cool and going fast. You want reliability, they want fun-ability. Trying to meet in the middle (or anywhere near it for that matter) is not an easy thing to do. You will argue. You will spend hours going through the classifieds. You will spend hours looking and driving them. In the end, you want happiness so that meeting place is an interesting one.
The Restrictions:
In my situation, I have specific guidelines, since I am sharing the car with my grandmother. She won't be the daily driver, but she will be driving it. She is also the one putting up most of the money, so her opinion does matter.
No manual transmission
Must seat four people
No SUVs or trucks
No big cars (BMW 7 series, Audi A8, etc)
No General Motors or Ford vehicles
Try to avoid toyota/Scion/Lexus
Car company should still be in business
Should be newer than 1998
Should have under 125,000 miles
No horrible modifications
Should need no repair work to begin with
Should be my kind of car (My 6' 250 lb self will look okay driving it)
Should be easy and cheap to repair
Must cost less than $6500
The Results (of searching for cars with that criteria)
They were not pretty, to put it simply. And it wasn't like there was a lack of inventory. In the Sarasota/Bradenton section of Craigslist, when searching for cars by owners only, you get hundreds of cars posted each and every day. The cars are just either sad, horribly customized expensive, or don't it my (our) criteria.
How about a 2001 Chrysler Concorde with 130,000 miles riding on 24" rims for $4800?
Or a 2001 Subaru Outback Limited Sedan with 188K miles for only $3200?
Maybe a 1999 Mitsubishi Eclipse with 174,600 miles on it for $1700 is more up your alley.
Maybe this 1999 Ford Taurus with a huge dent in the door with 141K miles for only $1500 is your cup of tea.
This 1987 Lincoln Town Car with 136K miles for $2000 may be just for you!
Last but not least is a 1994 Jeep Cherokee with a whopping 250K miles on the clock for $1000.
The point I'm trying to make here is that the cars for sale are not really practical for a first car. These searches also made me realize how expensive used cars have gotten. They have really high mileage, and just as high price tags. People are keeping these cars for a long time. It makes the searches quite difficult. Sure I have a brand dsire in mind, but I am not only looking at them. I really am looking for a Volvo, Subaru, or Mazda. The only Volvo's I find already have something wrong (rebuilt titles, high mileage, dents, etc). Every Subaru costs a fortune and has super high mileage. The only Mazdas are the old 626sa nd Miatas (which a 6' 250 lb high schooler can not really look good in. The only Hondas I ind have been riced up with turbos and dumb bodykits. The Fords are all old Escorts and Taurus'. VW's in my price range are expensive to fix and have electrical demons. That includes Audis as well. Mercedes are all the old beige models with high miles. Nissan didn't make anything good during the years that fall in my price range. That is the same story for the Kias and Hyundais in my price range as well. It becomes more sad than exciting with every click.
The Walk Around/Drive
Once you find a car, you go look at it. This is where it becomes even more depressing. I found a 1991 Volvo 240 sedan owned by a very kind high school girl. She was going to college up North and had a car up there. This one had to go. She was very honest, which was the problem. It had been in two accidents: one in 1993 (I'm assuming it was repaired under insurance since it still had value.) and one in March of this year which wasn't repaired. The damage wasn't serious, it had some green paint on the bumper and a small dent on the hood. It had 151,000 miles on the clock but it didn't show it. The interior was clean, the paint was new. The tires were new Bridgestones. The brakes were upgraded. The water pump was changed last month. It didn't have one crucial thing in Florida however, and that would be air conditioning. It went out a few months ago and they never fixed it. It is the blower fan, but it is a bitch to repair. So they didn't. I also noticed something alarming, the odometer didn't seem to be moving. It was locked at 151,756. I think the mileage was actually higher than that. So we had to pass.
We then went to see a 2003 Saab 9-5. It had a mere 85,000 miles on it. Fully loaded with leather, navigation, sunroof, 6 disc CD player, and power everything, it only cost $3200, since Saab went bankrupt and is dead. The owner however was up to no good. He was hiding something. We couldn't find it, but something wasn't right.
Then, we looked at a 2004 Volvo S40. In great shape with 100,000 miles, it was still pretty new. A Carfax report, done by a fellow Oppo, showed that it had been in an accident with frame damage. But he never mentioned it.
We went to see a 2004 Honda Element. Yes, it was a complete departure from those Swedish gems. But it was practical. Mileage was a bit high at 130,000, but it was a Honda. The pictures didn't show the passenger side, but oh well. We went to see it the next day. It had a huge dent in the passenger door. Supposedly, some kids took a baseball bat to it. Again, never mentioned.
It gets very tiring. There are plenty of cars out on the highway, but none are really that good. We all became depressed by this. That caused a change in plans.
The New Plan
Although buying a cheap used car would be nice, since you wouldn't worry about scratches or have to pay comp/collision on the insurance (since the car has no real value), there are no good ones. So, my grandmother has decided to buy a slightly used car and make payments. She wants it to cost around $15,000 and be reliable and easy to fix. I have come up with a list of good cars, but the choice won't be easy.
First, we have the Hyundai Veloster.
A very cool car indeed, the three doors give it personality. It still seats four, has a useful hatch, and costs around $18,000 new. It also has Hyundai's 10 year 100,000 miles powertrain warranty. My grandmother, being a Genesis owner, has come to love Hyundai. She also loved this car at the NYIAS. I love that it has modern features like the 7" touchscreen display, so I can play Pandora in it.
Next, the Dodge Dart. Just like the Veloster, a nicely equipped model comes in around $18,000.
In my opinion, it is one of the better looking small sedans out there. Also like the Veloster, it is meant to give you more for your money. I like that.
We also have the VW Golf.
A practical, fun to drive hatchback, the Golf is just a well rounded car. However, it isn't fully loaded like the Veloster or Dart.
If I raise my budget a bit, I may be able to find a Subaru XV Crosstrek.
Although not sporty, you can't beat the practicality. It gets good gas mileage and has a huge trunk for which I can throw my dogs or furniture in.
If I'm lucky, and find one with a bit of high mileage, this may even be possible. The Subaru BRZ.
This is one of my dream cars. It is so fun to drive, without being too crazy to drive.
The first car is not an easy topic. It will cause you to simply spend more money and get something reliable. Why do you think many high schoolers drive fairly new cars? This is my personal experience and I will of course update you once I do actually get my first car. No, that is not me up there. I would never drive a white Tiburon with a chrome gas cap.
Thanks for reading!