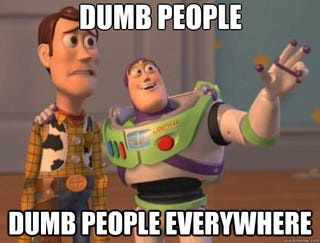 Customer: "How much is this?"
*Lifts up item to reveal 2x2 inch price tag with a big bold $5 plastered to it."
You: ...$5....
Customer: BUT THIS IS THE CLEARENCE ISLE, HOW AM I SUPPOSED TO KNOW??? *customer is standing beneath giant 'CLEARENCE 40% OFF' SIGN*
You: ...well...it's 40% off...
Customer: (͡๏̯͡๏)
You: So...that would be 40¢ off every dollar...
Customer: (͡๏̯͡๏)
You: ...so...40¢ x 5 = $2.00...
Customer: (͡๏̯͡๏) Well, HOW MUCH IS IT?!?! *customer cannot do elementary school level math, but somehow has acquired money to buy things...*
You:...$3.
Customer: UUGGGGHHH was that so friggin hard? *whips out iPhone to text someone, which could have EASILY been used to figure out how much the clearance item costs...*
...
Customer: *retreives book from isle with '80% off ALL BOOKS' sign placed in front of the books* Is this 80% off?
...
Customer: Do you have anymore of this item?
You: No, we're out.
Customer: But do you have any in the back?
You: No. We stock everything we get to the floor.
Customer: But I mean, like in the area where you store things that don't fit? Is it there?
You: This is the area we put things that don't fit.
Customer: You must not be understanding me; I mean, there's a place back there where the boxes you don't open go...
You: No, there isn't. And I'm not misunderstanding you. We don't keep backstock here. We don't recieve enough things for that.
Customer: Well, I manage [Insert COMPLETELY DIFFERENT AND TOTALLY UNRELATED COMPANY HERE] and I know how these stores work.
You: You aren't at that store right now.
*customer would later badger the store manage to SHOW HIM the bloody backroom where all the things he wanted weren't hiding*
...
Customer: Can you ring me up here? *neither you nor the customer are anywhere near a cash register...*
...
Why people gotta be dumb...