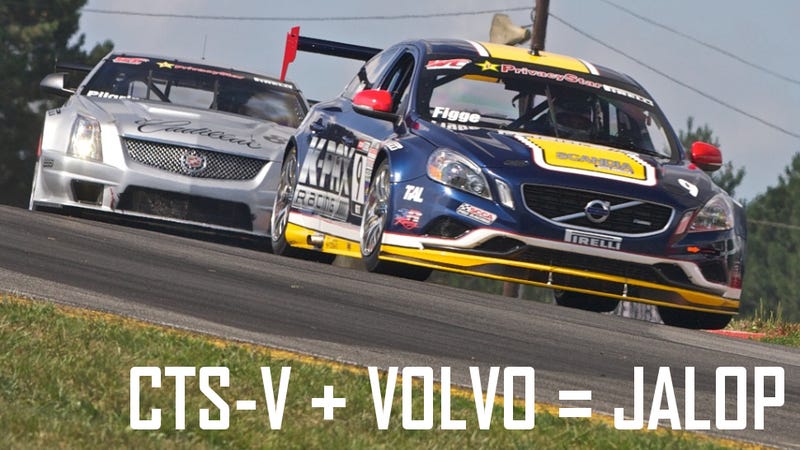 Let's get this out of the way first. This is simply the most Jalop series in racing today. Perhaps nothing more needs to be said than that the two front-running teams are the Cadillac CTS-Vs and the K-Pax Volvo S60s. If that doesn't float your boat it's almost guaranteed your favorite manufacturer is represented.
World Challenge has an incredible variety of cars on track. Most sports car series you might be lucky to find 5 different makes of car out on track. In addition to your standard Corvettes, Mustangs, 911s, and Camaros World Challenge has cars like the Nissan GTR, Acura TSX, Kia Optima, M3 (E92 and E46), Pontiac Solstice, and everyone's favorite Toyaburu twin the Scion FR-S. Even more impressive is that these cars are all built up to race spec from street cars, unlike most other racing series. The only exceptions are a few GT3s from Europe. And if you like looking at car guts, SCCA even publishes the full technical specifications of every single car. Want to know what the allowed camshaft profile of the car is, or how many body panels can be replaced with carbon fiber? Just take a look.
You might be saying "but I don't have the attention span or time in my day for sports car endurance racing." You're in luck, because World Challenge is a sprint racing series. Each race is just 50 minutes long, so you don't need to endure hours of strategy and hope for a close finish. The only strategy here is to drive as fast as you can. And with just two classes, GT and GTS, it's easy to keep track of. GT consists of sports cars like the Corvette, GTR, and 911 while GTS consists of performance road cars like the Camaro, 370Z, and Cayman S.
If these GTs are a bit too fast for your tastes, World Challenge still has you covered with their two touring car classes. Named TC and TCB, these are much closer to your standard road car. TC allows a bit more modifications, such as engine upgrades. TCB, on the other hand, are cheap small cars like the Fiat 500, Mini Cooper, and Mazda 2 with nothing but a roll cage, aftermarket OEM suspension parts, and racing slicks. They're the plucky little upstarts, hot-hatches before they get hot.
World Challenge returns this weekend at Long Beach with two GT/GTS class races. The touring cars start their season May 17th at Circuit of the Americas, where they and the GTs will support the Australian V8 Supercar series for possibly one of the greatest weekends of racing in the states. Full races can be watched live or via the archives at http://www.world-challengetv.com/. So put on some headphones and let your boss know not to disturb you while you work on that very important 'project'.
Have a favorite World Challenge car or livery? Let everyone know in Kinja below.